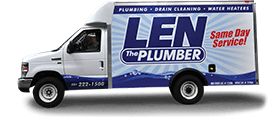 Did you know that the main water line running from the street to your home is your responsibility? It's true: In fact, if the city detects a main water line issue at your location, you'll be obligated to fix it or face a fine. Sometimes your main water line may clog, which can have a devastating effect on your home's plumbing performance. At Len The Plumber, our team delivers the fast, effective main water line services homeowners need to avoid city penalties and plumbing problems.
When your main water line is clogged, contact the plumbing professionals at Len The Plumber to get the line cleared in no time. Schedule service for your Delaware, Maryland, Pennsylvania, Washington, DC, Northern Virginia, or New Jersey area home today!
What Causes Your DC Main Line to Clog?
Your main water line is responsible for carrying wastewater from your home and into the designated wastewater drains. Even if a family only flushes the recommended materials down their main water line, a blockage within the line can still occur. Toilet paper, food items, oil, soap scum, hair, and other debris can easily build up within the line and clog the system.
Sometimes a clog can be caused by an act of nature, including tree root infiltration. This can point to signs of a larger issue, such as a break in the sewer line altogether. Main water line clogs can result in poor performance across all of your home's plumbing fixtures, making it critical for homeowners to remedy the issue as soon as it presents itself.
If you notice your home's plumbing fixtures have failed due to a clogged water line, contact Len The Plumber to schedule service today.
Signs Your Virginia Home's Main Water Line Is Clogged
When your main water line gets clogged, you'll be able to notice the signs immediately. Signs that indicate it's time to schedule professional main water line services include:
Multiple backed-up drains
Drainage in sewer cleanout
Sewage in floor drain
Water backs up in shower when toilet flushes
No water or low water pressure
Murky or discolored water
Excessive amount of water in your yard
Unusual increase in water bill
Sinkhole in your yard
If you've noticed any of the aforementioned signs of water line blockage in your home, don't hesitate to reach out to Len The Plumber. Schedule service with our team to receive the expert repair services you need exactly when you need them!
How We Clear Main Water Lines
Diagnosing a main water line clog can be difficult without the right tools or professional training. At Len The Plumber, each of our technicians is specially trained with the most advanced plumbing tools and techniques to deliver long-lasting solutions for our valued customers. Using diagnostic cameras and sophisticated tools, our team will find the root cause of your main water line clog and remove it once and for all.
We understand that main water lines can experience blockages at any time, which is why we proudly offer emergency plumbing services to quickly resolve all your urgent water line problems. When you need your main water line cleared, there's no better team for the job than Len The Plumber.
Contact us to schedule service in your home today.
Choose Len The Plumber for Main Water Line Service MD, DC, Northern VA, PA, DE & NJ
For fast, effective main water line clog removal when you need it most, Len The Plumber has you covered. No matter what time of day or night your water line clog occurs, our expert professionals will be there to quickly resolve the issue.
Contact us to schedule main water line clog removal services in your home!