Have you ever walked into your basement after a big rainstorm and found yourself splashing through ankle-high water? Heavy storms can cause big problems in your home if your sump pump isn't working – this is why it's important to test it periodically and have your sump pump repaired when necessary!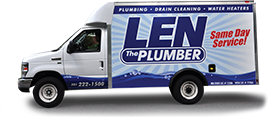 A sump pump is an electric pump typically placed in a pit in the basement or the lowest point of your home. During heavy rainstorms, water that would otherwise flood into your basement is diverted into the pit with the pump. When the water level reaches a certain point, the float valve on the sump pump activates and flushes the pump basically like a toilet, removing the water from your home so it doesn't flood the basement. Sump pumps are a cost-effective way to prevent major damage to your basement and protect your valuables.
Without frequent sump pump testing, you can't be sure if your sump pump is going to work when you need it – and when your sump pump doesn't work, even a moderate rainstorm could spell trouble for your home! Fortunately, all of the expert Baltimore, Washington, D.C., Northern Virginia, Delaware, and Philadelphia area technicians at Len The Plumber are sump pump repair pros, and we're available to take care of your sump pump needs – Same Day Service, 7 Days a Week!
If you need sump pump repair, replacement, or testing, don't wait! Fill out the form to the right or pick up the phone and call us today at 800-950-4619 – we'll have your busted sump pump running again in no time!
SUMP PUMP REPAIR SERVICES
Sump pumps are very reliable when properly maintained; that said, you should keep a close eye on them – especially in the spring and summer when it gets rainy. It's not uncommon for a sump pump to become clogged with gravel, dirt, sand, and other debris, which would prevent it from working properly and could spell trouble during a big storm! If you have a sump pump that has recently stopped working, drop us a line today. Our expert technicians can clean or repair your malfunctioning pump or, if necessary, replace it.
If you're having issues with your sump pump, call Len The Plumber now. Our expert technicians will accurately diagnose your issue and provide you with an upfront, written estimate. All of our plumbing trucks are fully stocked with replacement parts and new sump pumps, so if you approve the work, we'll get it done – Same Day Service, 7 Days a Week!
TESTING, BATTERY, AND WATER-POWERED BACKUPS
The best way to avoid sump pump failure is to test your sump pump periodically. Sump pump testing is something you should be able to do on your own fairly easily. To test your sump pump, first find it in the basement, then pour a 5-gallon bucket of water into the pit. This should cause the float switch to activate right away, which will, in turn, activate the sump pump to drain all the water. If this doesn't work, call Len The Plumber for sump pump repair or sump pump replacement!
If you need sump pump work in your home or want to discuss sump pump installation, call Len The Plumber today at 800-950-4619 or contact us online!
In addition to testing your sump pumps, adding a backup system is a great way to make sure your sump pump works well at all times. Our technicians offer two types of sump pump backups: battery or water-powered. Sump pump battery backups are powered by a large battery, and the system kicks on when the power goes out and allows your sump pump to continue pumping water even if the storm shuts the lights out! If you live on a well system, this is your best option for a sump pump backup. Additionally, our technicians are able to install a water-powered sump pump backup. If the power goes out, have no fear! This system is powered by your home's water supply and is a great option for a second line of defense if your sump pump fails.
SOME OF THE COMMUNITIES SERVED BY LEN THE PLUMBER INCLUDE:
Burke, Virginia
Canton, Maryland
Check out our service areas for a full list of the communities that Len The Plumber services.
Prevent Stormwater Damage to Your Home
While 6 out of 10 homes in the Baltimore, Washington, D.C., Northern Virginia, Delaware, and Philadelphia areas have sump pumps installed, most homeowners do not bother to understand how they work. Neglecting to regularly inspect your sump pump can lead to devastating water damage to your home's foundation and your priceless belongings – don't let this happen to you!
You can trust Len The Plumber's team of expert technicians to not only repair and replace your sump pump if needed, but also demonstrate how to test your sump pump yourself. We are available seven days a week, whether you just have questions or need emergency services – your satisfaction is our guarantee!
Don't let your home fall victim to flood damage! If you have questions about sump pump maintenance or installation, call Len The Plumber today at 800-950-4619 or contact us online.