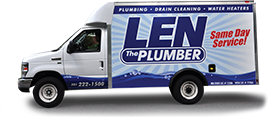 Few plumbing problems cause more stress than a malfunctioning sump pump. Without a fully functioning sump pump, your basement could quickly become flooded with catastrophic water damage. When sump pump problems arise in your home, it's best to call in a knowledgeable plumbing professional to set the issue right. Len The Plumber provides the end-to-end sump pump solutions that homeowners need to avoid destructive water damage in their basement.
If you suspect a sump pump issue in your home exists, don't hesitate to get the professional plumbing assistance you need. Contact Len The Plumber to schedule sump pump repair or replacement services today! We serve the Baltimore, Washington, D.C., New Jersey, Northern Virginia, Delaware, and Philadelphia areas seven days a week!
Signs You Need Sump Pump Repair or Replacement
Your sump pump won't be shy about letting you know that a problem is present. The following are just some of the signs homeowners should watch for that will indicate the need for professional repair or replacement services:
Strange noises emanating from your system
Failure to turn on
Pump runs continuously without automatic shut-off
Constant vibrating
Visible rust on the unit's exterior
Issues with the system's motor
No water in the sump pit
Frequently tripped circuit breaker
In addition to these symptoms, your sump pump may need replacement services if it's older than six years. Systems that are infrequently used may also experience an increased need for repair or early replacement since sitting sump pumps can drastically shorten the system's life span.
If you suspect your sump pump is in need of repair or replacement, contact Len The Plumber to schedule service today.
Our Sump Pump Repair & Replacement Services
Our team provides the end-to-end sump pump solutions that homeowners need to avoid catastrophic water damage in their homes. We offer same-day service, seven days a week to tend to all of your urgent sump pump repair requests when you need them most. Not only will we determine the root cause for your sump pump malfunction, but we'll deliver the long-lasting repairs you need to ensure top performance for years to come.
At Len The Plumber, we only carry the most advanced industry solutions from the most reputable manufacturers. We offer a broad range of top-quality sump pump systems, delivering sophisticated replacement solutions that last the long term.
Contact us to schedule sump pump repair or replacement services in your home!
Why Len The Plumber for Sump Pump Service?
For our team, it's not enough to provide the highest quality plumbing services. We are dedicated to offering an unparalleled customer experience with every job we perform. When you select Len The Plumber for your sump pump repair and replacement needs, you'll always enjoy:
Upfront, honest pricing without extra fees for overtime, evenings, or weekends
On-time, tidy service professionals who work around your schedule
Background-checked, drug-tested, certified service technicians trained in the latest tools and technology
Same-day service, seven days a week
Don't leave your sump pump service needs in just anyone's hands. Trust the team that delivers long-lasting solutions more than 60,000 times per year: Contact Len The Plumber to schedule sump pump service in your home today.
Sump Pump Repair & Replacement FAQs
How much does sump pump replacement cost?
The average cost for sump pump installation is $1,011, according to recent
homeowner surveys
. Len The Plumber offers plenty of
financing solutions
on approved credit that can help you afford the cost of your sump pump replacement service.
How many years does a sump pump last?
When properly maintained, a sump pump can last between six and ten years. However, if the system is used infrequently and is not well-maintained, units may become ineffective in as little as three to five years. Keep your sump pump working properly by
asking us
about our sump pump maintenance services today!
Do you need a plumber to install a sump pump?
Ensuring your sump pump is installed properly and working as it should requires the eye of a skilled professional. Don't risk catastrophic water damage in your home: Get the expert help you need by
scheduling service
with Len The Plumber.
How do I choose a sump pump replacement?
Selecting the right sump pump replacement unit can be daunting if you don't know what to look for. For most average-sized homes, a sump pump unit with 1/3 HP capacity should suffice. However, your needs may differ depending on the exact location of your home and what additional plumbing needs you have.
Consult with your plumbing technician
to determine which of our top-quality units is right for your home.
Schedule Sump Pump Repair & Replacement Today!
No matter what's plaguing your sump pump, our team has the products and services available to restore your system to working condition in no time. Ensure your home is capable of keeping water damage out of your basement by enlisting the help of our top-rated team of plumbing technicians.
Contact us to schedule sump pump repair or replacement services today!