Improve your water pressure
Tired of low water pressure? Call Len The Plumber! We offer water booster pump installation in your home, whether you're on well water or hooked into the city water supply. Booster pumps aren't just for multistory buildings or power washing hoses – if you feel like your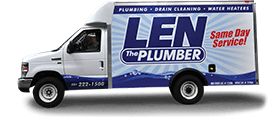 sink or shower flow is weak, you can use them in your home too.
Installing a booster pump can improve the water pressure of nearly all your plumbing fixtures. If your water pressure is lower than you'd like, if your toilets take too long to fill or if you can't use more than one water outlet at a time, call Len The Plumber!
Our expert Baltimore, Washington, D.C., Northern Virginia, Delaware, and Philadelphia area plumbers offer water booster pump installation in your home to help you fix your water pressure problems. Call or contact us online today to install a booster pump in your home!
Booster Pump Services
Whether you're on city or well water, low water pressure in your home can be a pain. Installing a booster pump will improve water flow to all of your plumbing fixtures and appliances, including:
Sinks and showers
Toilets
Dishwashers and washing machines
Lawn sprinklers
And more!
If you want to improve your water pressure, don't wait, just call Len The Plumber! Same day Service, 7 Days a Week – call us for booster pump installation today!