If you live in or close to a big city, you probably never have to worry about a well pump. But as you get farther out, it becomes more and more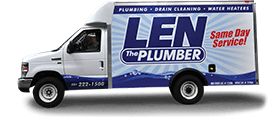 likely you rely on a well pump to move water from underground into your home. If this is the case, Len The Plumber offers a variety of well pump services.
Our well pump experts service the Baltimore, Washington, D.C., Northern Virginia, Delaware and Philadelphia Area. The specific counties we service are: Baltimore County, Howard County, Montgomery County, Prince George's County, Anne Arundel County, Harford County, Carroll County, Fairfax, New Castle County, Delaware County, Chester County, Stafford County, Fredericksburg County, Fairfax City, Alexandria, Arlington County, Loudoun County, Prince William County, Falls Church, Manassas, and Cecil County.
If you're experiencing well pump problems, especially if it stops working, it can mean big issues for your home's water pressure. Faulty well pumps will cause drastic reductions in pressure, making showering and cooking a chore. And if your well pump fails completely, forget it – you may not be able to get any water at all!
We offer Same Day Service, 7 Days a Week. From basic well pump services such as a minor repair to entire well pump replacement, no job is too big or too small. At Len The Plumber, we specialize in matching the right plumber to the right job and all of our service trucks are kept fully stocked.
If you approve the work, we'll get it done the Same Day! And we always provide upfront written estimates.
Well Pump Problems & Repairs
Well pumps are generally reliable, but like anything, they occasionally run into problems. Fortunately, the professionals at Len The Plumber are well pump repair experts and can take care of whatever ails your pump! Call us today if you have:
Low water pressure
No water pressure
Short cycling well pump
Lost air in the water tank
Faulty water pressure control or water pump control switches
We can also install pressure booster pumps if your old well pump isn't able to provide enough water pressure for your home anymore.