Spring has been well underway for the last few weeks now and the question begs, have you gotten to your spring cleaning? If the answer is no (which it probably is), then the first place you need to start is, *drum roll* — the bathroom! With all of the bacteria, hair clippings, dried toothpaste, and slow-dripping faucets, this is the perfect place to begin your cleaning.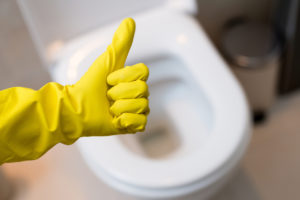 Toilet – When you think of cleaning the bathroom, the first thing that probably pops into your head is tackling the toilet. Let's get this one out of the way first so we can move on and not talk about it. Start off by dropping a cleaning tablet or a cup of baking soda into the bowl, allowing it to sit for five minutes before brushing and flushing. Next, you'll want to clean out the toilet tank — a part of the bathroom many people forget to clean.
Shower Head – How is your shower head looking; grimy and covered in limescale? Grab yourself a clear bag, fill it with vinegar, and tie it around the shower head so it is fully submerged. After letting it sit for 24 hours, you can remove it and rinse it off. Not only will it shine once again, but any clogged nozzles will be cleared of their blockages.
Shower – While the vinegar is working its magic on your shower head, take the time to address the shower curtain or door. For those with curtains, toss them into the washing machine with the plastic guard and a few old towels (to help scrub off the soap scum). Everyone with a shower door should rub on a homemade baking soda paste, let it sit for an hour, and then wash it off for a natural and clean sparkle. Clean the floor of the shower (or bathtub) by covering the bottom of it with water, pouring in vinegar and baking soda, and giving it a good scrub with some good ol' fashion elbow grease!
Sink – Let's move onto the sink, but don't you dare put your vinegar and baking soda back in the kitchen! Pour a healthy amount of baking soda, followed by vinegar, down the sink's drain (leave the hot water running for a minute or two afterward). This will help break up any small blockages that could be trapped within the piping. Be sure to also give the faucet, handles, and surfaces a wipe down (especially if the sink is located close to the toilet). If you're having trouble getting to any grime on or around the faucet and handles, use floss to get into those hard to reach crevices!
The bathroom is one area of the home that should be cleaned on a routine basis, but giving it a good spring cleaning is exactly what it needs right now! Throughout your cleaning adventure, if you happen to notice any slow-drip leaks or slow-flowing drains, make sure you contact a plumber for repairs immediately! Luckily, the professionals at Len The Plumber are always available to take your call! To learn more or to schedule an appointment, give us a call at (800) 950-4619.