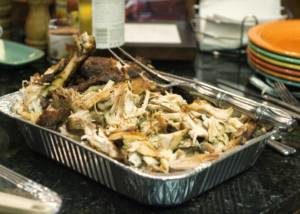 Thanksgiving dinner is one of the those meals where diets go on holiday. An abundance of food, grease and cooking oils can not only have you overstuffed but it can put a real toll on your drains.
According to the U.S Chamber of Commerce, Americans will waste 14 million pounds of dinner rolls, 40 million pounds of mashed potatoes and 172 million pounds of turkey at Thanksgiving. Much of that wasted food gets stuffed right down your garbage disposal.
Here are some options to keeping your garbage disposal from working overtime this holiday.
Recycling cooking oils
Enter the cooking oils and grease that help to make your favorite dishes delicious. It's okay to indulge but don't make your drain feel the pain.
Oil, fat and grease don't break down when you mix them with water and pour them down your sink. In fact just like it does in your arteries, fat and grease can solidify and cause blockages in your drain.
Instead of pouring the excess down the drain, how about giving it a new life. Oils can be recycled into bio-diesel and animal feed.
Check out your local Department of Environmental Protection or Division of Waste Management for their recycling services.
In Montgomery County, MD, residents can bring up to 5 gallons of liquid cooking and vegetable oil to the Shady Grove Processing Facility and Transfer Station. Make sure not to mix it with other fluids so it can be recycled.
Prince George's Brown Station Road Sanitary Landfill in MD also offers cooking oil recycling with proof of residency.
Here is info on recycling cooking oil in the City of Alexandria, VA. Information on recycling in the State of Delaware is available here. In Philadelphia, residents are encouraged to log on to Feed the Barrel to find locations to dump your dirty oil so it can be recycled.
Contain the Grease
One the major culprits of Thanksgiving sink clogs is grease. Take greasy turkey drippings or bacon grease used to mix with those brussel sprouts. Pour it down the drain and you'll have yourself a major blob.
Never pour grease from things like bacon fat or hamburger meat down the drain. Instead, pour the fats and grease into a can and allow it to cool and solidify.
The Washington Suburban Sanitary Commission offers free "Can the Grease" lids that fit on average-sized soup cans. You can email WSSC for two free lids.
Composting
Thanksgiving is the perfect time to jump into composting at home. The U.S. Environmental Protection Agency has some tips to get you started. Here are some things that can go from your Thanksgiving table to your compost bin instead of in your disposal:
Potatoes and yams
Vegetables
Cranberries
Coffee grounds
Used paper plates
Leftovers
Repackage your Thanksgiving meal using the turkey as a base for soup. Take your leftover mashed potatoes and make a casserole. Re-purpose that bread for croutons or bread crumbs.
Portion control
Everyone overindulges at this holiday, but getting a good estimate on the amount of food to make will help cut down on waste. Prepare guests with reusable containers so leftover foods and can be portioned out. And your to-go bags will score points for Host or Hostess of the Year.
Your dinner table is likely full of family and friends this time of year. But if you find your guests have cleaned their plates but Thanksgiving dinner has clogged your drains, call our professionals at Len The Plumber. We don't close for the holiday and are here for you with Same Day Service, 7 Days a Week! Thankfully, we have the thanksgiving know-how to make sure your drain isn't stuffed like your guests.