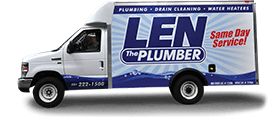 Whether a clog has formed in the depths of your plumbing system or a tree root has infiltrated your pipes, the more hidden the source is, the more difficult it is to resolve. Without the right tools to identify the problem, homeowners can waste time and money on ineffective repairs or unnecessary replacement services. At Len The Plumber, our team uses sophisticated video pipe inspection services to identify the root cause of blockages and other problems that may be present in your home's plumbing system.
Don't take a gamble on your home's plumbing: Have our team of expert technicians quickly and easily identify the problem using video pipe inspection. Contact us to schedule service for your home today!

Our video pipe technicians service Baltimore County, Howard County, Montgomery County, Prince George's County, Anne Arundel County, Harford County, Carroll County, Fairfax, New Castle County, Delaware County, Chester County, Stafford County, Fredericksburg County, Fairfax City, Alexandria, Arlington County, Loudoun County, Prince William County, Falls Church, Manassas, and Cecil County.
Corroded pipes, leaking joints, and root infiltration can be more than a pain – if left untreated, they can eventually do serious damage to your pipes. And since traditional pipe cleaning methods aren't always enough to catch these more advanced issues, all of the expert technicians at Len The Plumber are fully trained with the latest video pipe inspection techniques, and we're available to take care of your plumbing rooter service needs 7 Days a Week!
If you're having serious issues with your pipes, fill out the form to the right or pick up the phone and call us today – we'll have your pipe problems cleared up in no time.
Our Video Pipe Inspection Services for DC Families
At Len The Plumber, each of our plumbing professionals is specially trained to use the industry's most advanced video inspection tools and techniques. By carefully snaking our video equipment through your home's pipes, we'll be able to assess any internal damage and locate the root cause of blockages in no time. Once the source of the issue has been identified, our team will deliver the long-lasting repair or replacement services you need to remove the problem once and for all.
If you're experiencing persistent plumbing issues and aren't sure what the problem could be, it's time to call in the professionals at Len The Plumber. Contact us to schedule video inspection services to identify the plumbing problems in your home today.
When to Schedule Video Pipe Inspection Services
The only way to fix a problem is to know exactly what's causing it in the first place. Especially when plumbing issues appear to have no cause, it's important to have access to the necessary tools to locate the source of the problem. The following are just some of the signs that indicate the need for video pipe inspection:
You've just purchased a new home
Your drains are backing up or draining slowly
You've noticed leakage under the foundation
You have inconsistent or insufficient water pressure
Video pipe inspection services aren't just useful when plumbing problems are present; they also provide a form of prevention to help homeowners catch repair and replacement needs prior to escalation.
If it's been more than seven years since your last plumbing system inspection, consider making an appointment with Len The Plumber for video pipe inspection services today.
Choose Len The Plumber for Video Pipe Inspection Services in MD, DC, VA, DE & PA
Whether you have a persistent plumbing problem or simply require routine maintenance, a video pipe inspection can be exactly what you need to protect from significant plumbing damages in your home. At Len The Plumber, our expert team is specially trained to use the most sophisticated video inspection tools and techniques to deliver long-lasting solutions to the most complex plumbing problems.
Contact our team to get started with our video pipe inspection services today!