Fact: Roughly 157 Gallons Of Water Are Wasted Each Year Due To A Slow Leak Of 3 Drops A Minute
Every extra drip not only costs you a lot of money, but it also wastes a ton of water!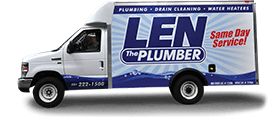 According to the EPA, household leaks can waste more than 1 trillion gallons annually nationwide. Drips start to add up and also take a toll on your plumbing fixtures such as your faucet. We advise all of our customers to get a leak checked out and fixed as soon as possible!
Leaky faucets are more than just a minor inconvenience. All that dripping water can corrode your sink and drain basins, wear away at your pipes and waste hundreds of gallons per year! Don't let this happen to you – call our friendly Maryland plumbing technicians for faucet repair today!
Want to see how much that leaky faucet is costing you? Use this calculator to find out!
Is the constant drip-drip of a leaky kitchen faucet or leaky bathroom faucet keeping you up at night? Leaking faucets can do a number on your home's plumbing system – corroding your pipes and potentially wasting hundreds of gallons of water per month (and hundreds of dollars a year)!
Leaky Faucet Repair Services
At Len The Plumber, we've seen it all when it comes to leaky faucets. Let's face it – your faucets are some of the most frequently used appliances in your home. All that wear and tear is bound to catch up with them at some point! That's why we offer fast, full-service faucet repair and replacement in Baltimore, Anne Arundel, Carroll, Howard, Harford, Cecil, Prince George's, and Montgomery County, Maryland, seven days a week.