Dealing with low water pressure in the home can be a serious pain. From cooking and cleaning to personal hygiene, low water pressure can quickly transform even the most menial task into a drawn-out chore. Homeowners need access to a reliable plumbing professional who can restore adequate water pressure to their plumbing systems. Len The Plumber provides the comprehensive services that Washington, DC area residents need to make low water pressure in their homes a thing of the past.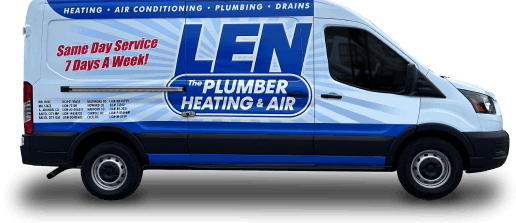 Don't allow low water pressure to become a persistent issue in your home: Get the long-lasting solutions you need by contacting Len The Plumber for low water pressure services today!
Common Causes of Low Water Pressure in DC Homes
The first step to addressing low water pressure in the home is understanding where it came from in the first place. There are many different causes for low water pressure, including the following:
Leakage in the home
Faulty or outdated plumbing fixtures
Sediment buildup
Closed or blocked water valve
Pipe corrosion
Water supply issue
Equipment failure
No matter what the underlying cause of your water pressure problems may be, Len The Plumber has the expert team available to provide the long-lasting solutions you need. Our team of top-rated technicians proudly serve more than 60,000 families every year, expertly resolving even the most complex plumbing problems.
Contact us to schedule the water pressure services you need today. 
Our Low Water Pressure Solutions & Services
Once our team identifies the root cause of your low water pressure, we'll recommend a personalized solution that resolves the issue once and for all. Using the most advanced industry tools and techniques, we'll pinpoint the direct cause for low water pressure in your home and provide one of the following service solutions:
At Len The Plumber, our team's job isn't finished until adequate water pressure has been fully restored to your home. When your Washington, DC home needs improved water pressure, don't hesitate to contact our team for service today!
Why Choose Len The Plumber?
Our plumbing professionals have proudly served the Washington, DC area for more than 20 years. We are committed to delivering on our promise to not only provide long-lasting, reliable solutions, but to offering an unparalleled customer experience. When you select our team for service, you'll always receive:
Certified, quality plumbers with valuable industry experience
Upfront, honest pricing with no overtime, weekend, or evening service charges
Full explanation of all work suggested and services provided
On-time, tidy service professionals that are fully drug-screened and background-checked prior to employment
Available same day service, seven days a week
Don't let your plumbing system's needs fall into the wrong hands. Trust the team that DC families have relied on for decades to get the job done right: Contact Len The Plumber today!
Schedule Water Pressure Services in Washington, DC Today!
From faulty fixtures to corroded pipes and everything in between, Len The Plumber has the service professionals you need to resolve whatever is causing low water pressure in your home. Get the long-lasting solutions you need by contacting our team to schedule low water pressure services for your Washington, DC area home today.