Pinpointing the source of a water leak in your Washington, D.C. home isn't always as straightforward as one might think. In some cases, a leak may stay hidden within your plumbing system for days, weeks, or even longer, leading to severe water damage to your fixtures and personal belongings.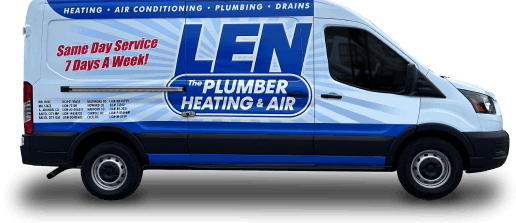 If you suspect a water leak may be lingering within your home's plumbing system, Len The Plumber has the professional team you need to set the problem right in no time. Relying on our decades of industry expertise and advanced plumbing tools and techniques, our team is confident in our ability to find and fix the root cause of water leakage in your home.
When you suspect a water leak in your Washington, D.C. home, look no further than Len The Plumber to get the job done right. Contact us to schedule water leak detection and repair services today!
Signs Your Washington, D.C. Home Has a Leak
Aside from finding a puddle of water on the floor, many other signs could indicate a hidden leak within your plumbing system, including:
Water stains or other damage to walls, floors, or ceilings
Mold or mildew growth
Soft areas of the floor
Wet or damp odors
Unexpected increase in water expenses
Any suspicion of a water leak in your Washington, D.C. home is reason enough to contact a professional plumber.
Don't leave your water leak detection and repair needs in the wrong hands. Schedule water leak detection service with Len The Plumber today!
Our Water Leak Detection Services Near Washington, D.C.
At Len The Plumber, plumbing is all we do, and we do it the best. We've helped families throughout Washington, D.C. resolve several hidden water leaks within their plumbing systems, including:
Leaky pipes
Radiant flooring leaks
Underground sewer line leaks
Slab leaks
And much more!
Relying on our years of industry expertise and sophisticated video camera pipe inspection technology, we'll pinpoint the root cause of your water leak in no time. Once we've identified the source of your plumbing leak, we'll deliver one of our long-lasting solutions, including:
Don't allow a hidden leak to wreak havoc on your home. Call (800) 950-4619(800) 950-4619 to schedule water leak detection in Washington, D.C. today!
Choose Len The Plumber for Washington, D.C. Water Leak Detection
For your home's plumbing needs, you deserve the superior plumbing services that only Len The Plumber's expert team can provide. For more than 25 years, we have proudly served as Washington, D.C. preferred plumbing professionals, offering unparalleled customer service through our unbeatable benefits, including:
Same-day service available seven days a week
Upfront, honest pricing with no fees for overtime, weekend, or evening service
A complete explanation of all services recommended and rendered
On-time, tidy service professionals who treat your home with respect and courtesy
Don't let a water leak go undiagnosed in your Washington, D.C. home. Contact Len The Plumber to schedule water leak detection services with our team today!
Water Leak Detection FAQs
Does homeowners' insurance cover water damage due to leaking plumbing fixtures?
Most homeowners' insurance policies do not cover the cost of water leak detection or repair services due to damage caused by leaking plumbing fixtures. If your home has suffered a water leak, consult with the plumbing professionals at Len The Plumber to find the financing solution that works best for your needs.
What should I do if I suspect there is a water leak in my home?
The first step you should take if you suspect a water leak in your plumbing system is to turn off the main water supply to your home. Once shut off, release the water pressure in the pipes by opening and running the faucet into the kitchen or bathroom sink. Finally, contact your same-day plumbing service professional to schedule water leak detection and repair.
What kind of damage can water leaks cause?
Water leaks can cause significant damage to your home and personal belongings when left untreated, including:
Mold and mildew growth
Structural damage
Electrical malfunctions
Damage to personal property