(800) 950-4619

(800) 950-4619
1552 Ridgely Street
Baltimore, MD 21230
Areas We Service in Baltimore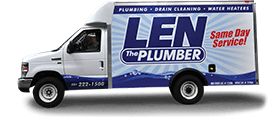 With a 25-year legacy serving the Baltimore area, Len The Plumber Heating & Air is your premier provider of home service solutions you can rely on.
Our experienced and skilled HVAC technicians and plumbers provide top-notch services for a high-quality experience that exceeds your expectations in every way.
With upfront pricing before work begins and fully stocked trucks for timely solutions, our local team offers seamless plumbing and HVAC services from start to finish.
Trust Len The Plumber Heating & Air for plumbing and HVAC services in Baltimore, MD. Call (800) 950-4619(800) 950-4619 today or schedule service online.
24/7 Emergency Plumbing & HVAC Repair
Don't let breakdowns catch you off-guard. Partner with Len The Plumber Heating & Air for emergency plumbing and HVAC repairs.
When you enlist our services for your home, we provide 24/7 emergency services to swiftly address your concerns.
Your One-Stop Shop for Home Services in the Baltimore Area
We're dedicated to keeping your plumbing and HVAC systems in peak condition. With certified and insured plumbers and technicians who understand the issues Baltimore homeowners face, you're guaranteed service that's backed by knowledge, experience, and a genuine commitment to your comfort.
We prioritize your unique needs, from complex repairs and installations to routine maintenance through the Whole Home Service Plan. Our team provides:
General plumbing services: Whether you're looking for comprehensive sump pump services, water line repairs, or gas line installation, we're your trusted source of all plumbing jobs.
Drain and sewer services: From tree root infiltration to slow drainage in your home, turn to our plumbing experts for drain cleaning, sewer repair and replacement, and more.
Water heater services: Our team can keep your standard gas or electric water heater operating efficiently and effectively. We also deliver exceptional solutions for tankless gas water heaters.
Well services: With comprehensive well services, including well pump repair and replacement and water treatment solutions, we help to ensure the longevity of your water supply system.
Air conditioning services: Preserve the comfort and efficiency of your home with repair, replacement, and maintenance for your central and ductless AC systems.
Heating services: When it comes to your furnace, boiler, and heat pump needs in Baltimore, trust our team for repair, replacement, and maintenance. We'll enhance the efficiency, effectiveness, and longevity of your system.
Indoor air quality services: Protect your health with our whole-home air purifiers and humidifiers for improved comfort and easier breathing indoors.
Len The Plumber Heating & Air is your trusted source of home comfort. Request HVAC or plumbing services by calling (800) 950-4619(800) 950-4619 today.
Why Choose Len The Plumber Heating & Air?
Don't compromise on the quality of your home service needs, let our expert staff ensure your repairs, installations, and maintenance needs are met with precision, care, and quality.
We aim to simplify home services by making services a breeze instead of a headache. With flexible financing options, special offers, and no extra charge for evening, weekend, or overtime services, we make restoring your home's essential systems a hassle-free, seamless process.
Schedule same day plumbing and HVAC services in Baltimore, MD, when you call Len The Plumber Heating & Air at (800) 950-4619(800) 950-4619!