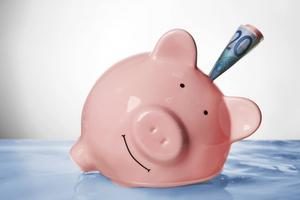 We know you're a responsible homeowner. You do your best to stay on top of every day maintenance. You know the best practices for drain care. You keep an eye on your monthly water bill. You pay close enough attention to notice when it's suddenly started rising, and you care enough to look into what might cause that rise. Don't worry, we've got you covered. Below are the four most common reasons behind a suddenly rising water bill – and how to fix 'em.
1. You installed a new appliance that isn't WaterSense approved.
The WaterSense program is an initiative created by the EPA to help promote water conservation efforts on a house-by-house basis. One of the most helpful parts of this program is their proprietary WaterSense label. When the EPA awards a fixture or appliance with the WaterSense label, it means several things.
First, any fixture or appliance with a WaterSense label is 20% more efficient than comparable products. Second, they achieve that efficiency via ecologically-friendly, future-facing technology and quality performance. Finally, they provide measurable results, so you can see the benefits of installing one. If you're going to install a new appliance in your home, find one with the WaterSense label. Fixtures and appliances that aren't WaterSense approved may not be as efficient as you'd like them to be.
2. Running Toilets.
Did you know that some older toilets use as many as seven gallons of water per flush? Toilets use more water than any other fixture in our homes. If they're not working correctly, they'll use even more water. If your water bill seems especially high lately, your toilets are the first place you should check. Running toilets are the most common source of rising water bills.
Each time you flush your toilet, all the water from the toilet tank transfers into the bowl. Before it can flush effectively again, the toilet has to refill the tank. When the toilet won't stop running, it's because something is preventing the toilet tank from refilling effectively. Usually, the flapper separating the tank from bowl is old or broken. Luckily, replacing a flapper is easy and cheap. If fixing the flapper doesn't fix the problem, there may be another leak between the tank and bowl. It's also possible you'll need to replace your refill valve.
3. There's a leak hidden somewhere.
Hidden leaks tend to be the main cause of rising water bills. The longer they last, the more water they waste and the more they drive up your bills. Unfortunately, hidden leaks can do worse than simply hiking up your water bill. They can lead to mold growth, water stains, rot, and other home problems. These problems can affect your home's resale value and even your health.
Finding hidden leaks is as simple as going out of your way to look for them. Consider the areas of your home that you don't look at as often. Check under sinks, near outdoor plumbing fixtures, behind your toilet, or in the basement. Check these areas regularly so no leaks go unnoticed.
4. You've been ignoring a drip.
A single drip may not seem like much, but over time they can add up. One drip left unchecked for a month can lead to thousands of gallons lost. In other words, that annoying faucet isn't just annoying; it's expensive, too. If you notice a drip, you should call someone about it sooner rather than later.
5. Situational factors are at play.
When you see a sudden peak in your water bill, we wouldn't blame you for thinking something was terribly wrong. Luckily, that's not always the case. Sometimes particular situations, like adding a new guest or family member to your household, will naturally result in higher bills. Try to determine if there's any reason why you'd be using more water than usual. If you can address the behavior that led to the bill hike, do so.
The problems that lead to rising water bills are always fixable. All it takes is a little knowledge and a little effort. If you ever need a little extra of either of these things, call Len The Plumber. We're always happy to help.