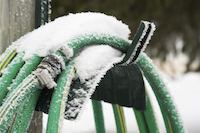 As we're nearing the winter months and our first frost, it's time to disconnect your garden hose(s) and turn off the water to your hose bibb (also commonly known as an outdoor faucet). Even though we've had above normal temperatures lately, it's best to disconnect the hose early — one night of freezing weather can cause a break in the pipes.
In order to prevent damages to your home and belongings this winter, we've provided you with step-by-step instructions to properly winterize your hose bibb:
Regardless of what kind of hose bibb you have, frost proof or not, it's important to remove your garden hoses from the spigot first.- After you remove the hose, untie any kinks or knots, and then drain all of the water out completely.- When the water is drained and the kinks are out, wind the hose in a circular shape and store it in a warmer location like your basement or heated garage. Sometimes garages and outdoor sheds reach freezing temperatures, which can ruin the hose.
The next step is to inspect your outdoor faucet for leaks. It's important to repair any leaks or drips you find. It doesn't matter how much water is leaking or the speed of the drip, the water can build up and freeze in the pipe or the fixture causing a major mess.
Once you've removed the hose and inspected the area for leaks and drips, it's time to turn off your inside supply line. Once you've shut that off, make sure you turn on your outdoor faucet to drain the existing water — this is very important. If you have a hose bibb that is not frost-proof, the best way to do this is to shut off that line, if possible, and drain it down. If you can't isolate the water supply to the hose bibb to shut it off be sure to use extra insulation.
For extra protection, consider installing a hose bib cover or a frost-proof hose bibb. The covers are typically made of thick foam so it's effective keeping most of the cold away from the valve.
Once you've completed the steps above, your garden hose and hose bibb should be ready for the cold weather.
We know the last thing you need to worry about this winter is a plumbing issue, so if you're interested in installing a frost-proof hose bibb, give us a call today!