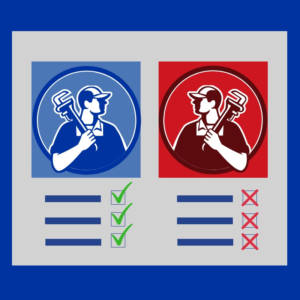 Today some of us will pull a lever, some will darken circles and some will punch out chads. But, however you do you it, election day is all about sifting through all the candidates and then casting your vote.
Another decision that might not determine the future of the country, but can certainly make a difference in your home is hiring the right plumber. Whether it is repairing broken pipes or installing a new water heater, picking the right plumber can ensure your project is done right. Failing to hire a qualified, licensed and experienced plumber can leave you wishing for a recount.
Consider the following tips before hiring a plumber:
Licensed: Plumbers in most states, including those in the Mid-Atlantic, are required to hold a license. Don't be fooled by a business license which all businesses must hold in the jurisdiction where they operate. Plumbers must also have a plumbing license to certify that they have been properly trained and have completed their apprenticeship. At Len The Plumber, we have a full slate of certified plumbers with years of experience to help you with all your plumbing needs.
Insured: Plumbers should be insured and show proof of it if requested. This protects both you and the plumber in case of an accident. Our Len The Plumber professionals are both bonded and insured. You don't get that type of guarantee from your politician!
Estimates: The plumber should be able to give you an estimate up front before starting any work. Because at Len The Plumber, plumbing is all we do, no matter how big or small the job is we've most likely seen it before.
History: In politics, new candidates can infuse fresh ideas but when it comes to your plumbing, experience is what you want. For more than two decades, Len The Plumber has been the trusted plumbing professional serving the Mid-Atlantic.
Referrals: Doing a good job the first time gets you re-elected. Being prompt, being skilled, and being courteous gets you a good referral. You can read what our customers say about Len The Plumber here.
Republicans, Democrats, Green Party, Independents- all have one thing they can rally around: plumbing is best left to the pros. For hundreds of thousands of homeowners in the Mid-Atlantic, those professionals have been our licensed experts at Len The Plumber. We offer Same Day Service, seven days a week, and never charge more for evening or weekend appointments.
Now that's a promise you can count on during any election cycle!