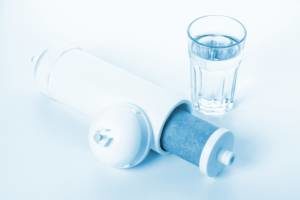 Lugging cases of plastic water bottles home from the grocery store isn't only bad for your back; it's bad for the environment. A water filtration system could be all you need for water that tastes good and is free from harmful contaminants straight from your tap.
If you are thinking of gifting a water filtration system this holiday season here are some things to consider.
Should I have my water tested?
Drinking water is good for you. Drinking water that tastes good and is free of contaminants is ideal. Before choosing a water filtration system, it's a good idea to test the quality of your water.
Taste, color, odor and staining of clothes or fixtures are signs of possible water quality issues. If your home is served by a public water system, that water is tested and results reported to federal and state agencies responsible for making sure it is healthy and meet the National Primary Drinking Water Standards.
If your water comes from a private well, routine testing is highly recommended by the Environmental Protection Agency. Private well testing is especially important is there is an infant in the home, if you have a new well or repaired pipes, or if there has been a chemical or fuel spill near your water supply.
You can find a state certified laboratory by calling the Safe Drinking Water Hotline at 800-426-4791 or by logging on to the EPA website.
Our experts at Len The Plumber can also provide you a water analysis testing for things such as pH, Iron and other mineral contents that can be unsafe and undesired in your water.
Filtering through water filtration options
Water filtration systems vary greatly in cost and design. Some take up precious counter or refrigerator space while others are hidden inside a cabinet and provide an endless supply of filtered water.
Step One:
Determine the degree of filtration you need. Depending on the results of your water quality testing, you may be in the market for a system that provides an advanced level of filtration.
To be certain a filter removes the contaminants in your water, look for a filter rated to meet the NSF standard for that substance. According to Consumer Reports, third-party labs that certify products to NSF standards include the CAS, WQA and UL so it is likely those certifications will appear on the filtration packaging.
Step Two:
Determine how much filtered water you consume. That will help you make sure you install a system that is sized right for your usage.
Step Three:
Choose the system that fits meets your budget and maintenance needs. Here are some choices:
Carafe system: This is the simplest water filtration system that uses a manual-filled pitcher with a filter cartridge. This isn't an ideal choice for homes that use a lot of drinking water as the pitcher takes up space in the fridge and the cartridges need frequent replacement. The upside is its minimal cost.
Under-Sink Filtration system: This system is installed in a cabinet beneath your sink and provides endless filtered drinking water. These filters often need a professional installer like Len The Plumber to complete the job. However, once it is in place there is little maintenance.
Reverse-Osmosis water filter: This filter does some heavy lifting forcing water through a semi-permeable membrane and then through filters. The upside is it filters a range of contaminants, however it does require some upkeep to keep it doing its job properly.
Faucet-Mounted water filter: For a quick and easy water filtration system, this does the job. It screws onto your faucet and lets you choose between filtered and non-filtered water. A word of caution is that many don't work with popular faucets that have pull-out sprayers and the water flow is decreased.
Giving the gift of clean, filtered water is a great idea. Making sure it is the filter that fits the needs of your home will keep you from standing in the long return lines after the holidays. And if you find you need professional installation of your home's water filtration system, just call Len The Plumber. We offer same day service, seven days a week so your gift of a water filtration system can be flowing soon after it's unwrapped.