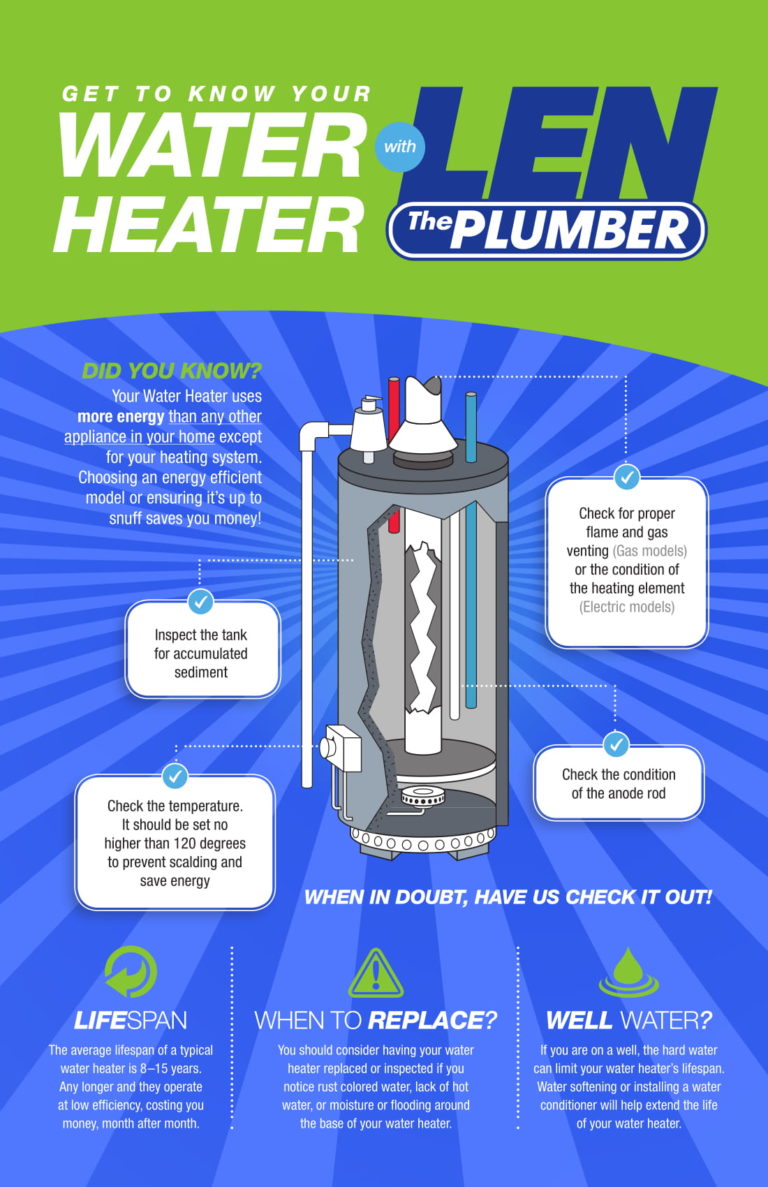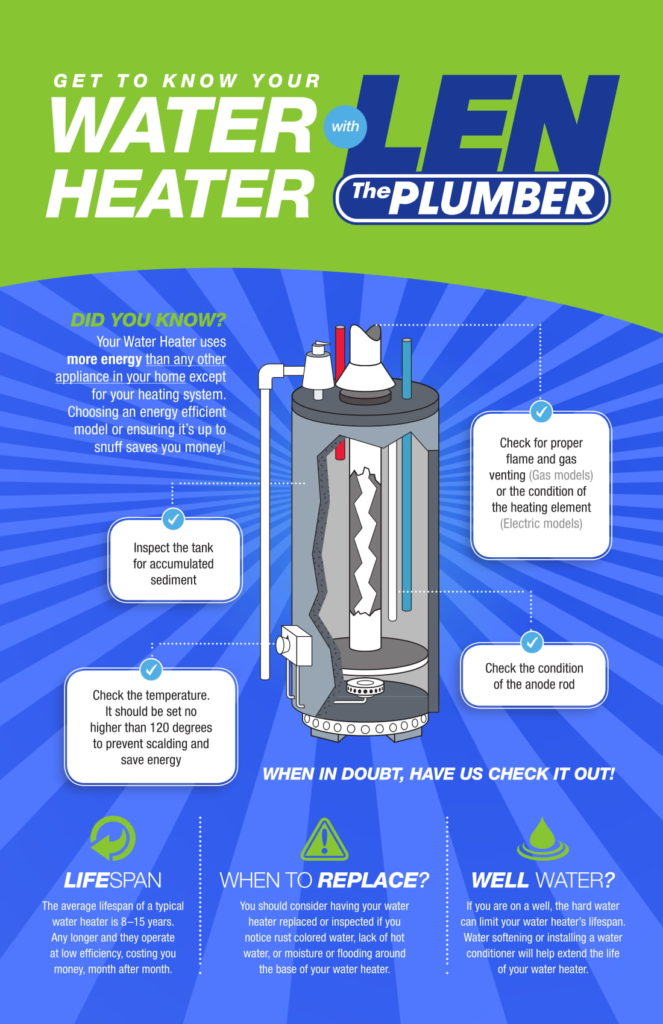 Allow us to introduce you to a very important member of your household: your water heater. You rely on it every day and night. You expect absolute reliability and worry-free operation. And you expect it to help keep your family safe.
So with all that resting on its shoulders, it's definitely a good idea to learn a little about how it works, what goes where, and how you can help ensure long-term safe and dependable operation.
Here are primary parts that comprise your gas or electric water heater:
Tank – The inner shell of a water heater is a heavy metal tank containing a water protective liner that holds 40 to 60 gallons (151 to 227 liters) of hot water. The exterior of the tank is covered in an insulating material like polyurethane foam. Over that, there's a decorative outer shell and possibly an additional insulating blanket.
Dip tube – Water enters the water heater through the dip tube at the top of the tank and travels to the tank bottom where it's then heated.
Heat-out pipe – Suspended toward the top of the tank's interior, the heat-out pipe allows the hot water to exit the water heater.
Thermostat – This is a thermometer and temperature-control device. Some electric water heaters have a separate thermostat for each element.
Heating mechanism – Electric water heaters have heating elements inside the tank to heat the water. Gas water heaters use a burner and chimney system instead.
Drain valve – Located near the bottom of the exterior housing, the drain valve makes it easy to empty the tank to replace the elements, remove sediment, or move the tank to another location.
Pressure relief valve – This safety device keeps the pressure inside the water heater within safe limits. Some codes require an expansion tank to be installed in addition to the water heater tank.
Anode rod – The anode rod is suspended inside the tank and attracts particulates naturally occurring in your water to keep them from corroding the tank. When this rod goes bad, you'll notice a faint sulfur smell in your water.
Shut-off valve – There are two main shut off valves that you should familiarize yourself with. The main water shut-off valve stops water from flowing into your water heater. If you have a gas heater, there's a shut-off valve that cuts the gas off if there's ever a problem. Know where these shut-off valves are and how to shut them off in case of an emergency.The picture below shows you how to know when it's shut off. If the valve is parallel with the pipe it's always "on" and when the valve is perpendicular to the pipe it's always "off."
Now that you "two" know each other a little better, here are a few water heater safety tips that we urge you to keep handy:
Always have a working smoke and carbon monoxide detector.
All heaters need space. Keep things that can burn at least three feet away.
Only purchase a water heater that has the label of a recognized testing laboratory.
Have a qualified professional install the equipment.
Have your water heater professionally inspected once a year.
If you smell gas, get out of the house and then call 9-1-1 from outdoors or a neighbor's house. Using a phone indoors could cause the gas to ignite.
An abundant supply of hot water is something we've all grown used to. But that doesn't mean we can take our water heaters for granted. After all, they are mechanical objects…and that means they need regular care and attention.
Learn more about our water heater services in Maryland or read our water FAQs to determine if you need water heater replacement.