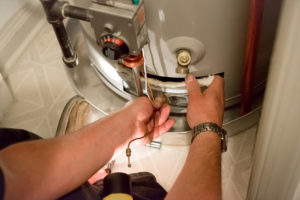 Like all appliances and plumbing fixtures in your home, the water heater will need its fair share of maintenance to keep it running efficiently. Providing your water heater with the proper maintenance will allow it to work effortlessly, thus extending its lifespan and keeping your wallet stuffed! Here's what you should focus on during your water heater maintenance.
Inspect the Anode Rod
In order for your water heater to last as long as possible, its anode rod needs to remain in excellent condition. The anode rod is a steel core wire that protects the entire unit from rusting and is usually screwed into the top of the water heater. On average, this piece will last anywhere from five to 10 years — so it's important to inspect it annually and replace if necessary. Replacing a less than $50 part beats paying over $500 for a new water heater, wouldn't you think?
Test the Pressure Relief Valve
When too much pressure builds up within the water heater, the pressure relief valve will open to relieve the unit. This safety feature will prevent damage to the fixture — and even prevent it from exploding! To test this valve, turn off the gas or electric and then open and close the valve multiple times. A working pressure relief valve will have water flow from the drainpipe when the valve is open. Make sure this is happening and that there's no sediment or mineral buildup around the opening.
Flush Out Any Sediment
Over time, minerals and sediment will build up within the tank of the water heater. For those who do not flush their water heater annually (or those with hard water), this buildup of sediment can shorten its lifespan and cause your energy bills to rise. Eventually, too much sediment can cause corrosion which will lead to extensive leaks — and once leaks get big enough, the entire unit will need to be replaced. Call your local plumber and they'll have it cleaned out before you know it!
Water heaters are easy to overlook, but by providing yours with some quick and easy maintenance, you'll maximize its lifespan and efficiency. For those looking for water heater repair or service, contact the professionals at Len The Plumber. To learn more or to schedule an appointment, find out which of our service areas you live in!