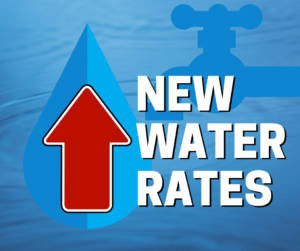 The New Year may cost consumers in almost all Len The Plumber Mid-Atlantic service areas more money on their water bill, making now the best time to find sources of wasted water in your home.
From Philadelphia to Northern Virginia, water suppliers have increased their water rates in most cases to help fund infrastructure improvements to their systems. Aging pipes and equipment are a constant struggle for water delivery systems as demand on the system increases with population growth.
The City of Philadelphia Water Rate Board recently approved rate changes that will increase customers' bills in fiscal years 2019 and 2020. The results for a typical residential customer is a monthly bill that would decline slightly from $66.50 to $66.33 in fiscal year 2019 due to a reduction in the monthly customer service charge, then an increase to $67.19 in fiscal year 2020.
Baltimore residents could also face three years of higher water bills at an increase of 9 percent every year if city officials agree with a proposal from the Department of Public Works. According to The Baltimore Sun, the extra revenue generated by the increase would be used to make capital improvements to the city's aging water and sewer systems.
The Washington Suburban and Sanitary Commission, serving Montgomery and Prince George's counties, adopted a new water and sewer pricing system in the summer that may result in decreased water and sewer bills in homes with more occupants and increased bills for residents who live alone. The tiered system takes effect in July. According to The Washington Post, a three-person home, will see their quarterly bill drop by $5, but someone living along will likely pay $8 more each quarter.
For customers who get their water from DC Water, a Cost of Service Study and resulting rate setting already went into effect starting in October. As a result, the sewer rates were increased while the water rates were adjusted down slightly. The overall increase to the average residential customer bill is 5-6 percent higher than last year.
No matter what you pay in water bills, it's always a good idea to check your house for leaks. According to the Environmental Protection Agency, nearly ten percent of homes have leaks that waste 90 gallons or more per day. Here are some leak-finding tips from WaterSense:
If a family of four exceeds 12,000 gallons per month on your water bill during winter, you may have a serious leak.
Do not use faucets, flush toilets or do laundry for two-hours and check your water meter. If it changes, you have a leak.
Use food coloring to check for a leaky toilet.
Check faucet gaskets and pipe fittings for any water on the outside of the pipe for surface leaks.
You can find other sources of your high water bill here.
Know the rate you pay for water and examine your water bill to determine if there are ways you can reduce usage to keep costs down. Here is a list of rates for customers in the Mid-Atlantic:
Fairfax County, VA: Customers of Fairfax Water are looking at a rate adjustment that will start April 1. You can find out how much it will cost for your water usage here.
Prince William County, VA: The rate increase here started this month. According to the Prince William Service Authority, a typical residential monthly water and sewer bill using 6,000 gallons will increase $1.40 starting this month, $1.90 next January and $1.95 in 2021.
Arlington, VA: Here's where you can find water rate information for Arlington, VA.
Fredericksburg, VA: You can find your rates here, without a rate increase this fiscal year.
Loudoun County, VA: Loudoun Water increased its user rates in 2013-2015 and have a schedule of rates that shows an increase again through 2021.
City of Alexandria, VA: The rates increase started in 2016. A typical customer's bill went up by 61-cents. You can read about it here.
Stafford County, VA: Water and Sewer rates here increased from June 1, 2017 to June 1, 2018.
Delaware: You can use the UNC Delaware Water and Wastewater rates dashboard tool to compare water and sewer rates in Delaware.
Cecil County, MD: You can find information about Cecil County customer water rates here.
Harford County, MD: In Harford County, new rates increased in 2016 an average of $38, according to the county.
Carroll County, MD:  According to the Carroll County Times, the was no increase in water and sewer rates in the fiscal year 2019 budget.
Charles County, MD: You can find the Charles County water and sewer rates here.
Howard County, MD: Howard county water rates increased July 1, 2018. You can find the schedule here.
Anne Arundel County, MD: Information on water rates can be found in the 2019 budget recap.
Delaware County, PA: Water service is provided by Aqua Pennsylvania and you can find your residential water rates here.
If your water bill is climbing due to a rate change, call Len The Plumber. Let us audit your home for ways to save you money. Our licensed plumbers are here to serve customers throughout the Mid-Atlantic so you can make sure you aren't paying for water that is leaking from your home.