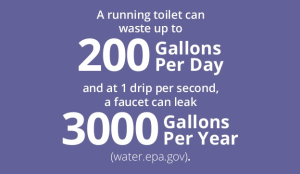 At least once in our lives, we've had a toilet that makes that 'certain sound'.  You know what sound we're talking about:  the recurrent sound of water filling up the tank of the toilet regardless if it's in use or not.  This common household issue is called a "running toilet"—we're sure you've heard that term before!
Many homeowners go months, if not years, without having this issue fixed or even looked at by a certified plumber, which can be costly.  What you need to know is that a running toilet is an internal water leak.  Therefore, if you ignore the problem this could increase your water bill due to the gallons of water being wasted daily.
So why exactly do some toilets run?  There are a handful of reasons why this can happen to some toilets and not the others.  The toilet flapper could have decay or cracks, the chain connected to the flapper could be insufficient, or the toilet tank float ball and float arm could be working incorrectly.  The tank of the toilet is somewhat complex, so it's always best to have a certified and experienced plumber diagnose and fix the issue.
Running toilets are a common household issue that can end up being costly!  Give us a call today or schedule a service online to have one of our certified plumbers take a look at your running toilet.  We're here to provide you with Same Day Service, 7 Days A Week!