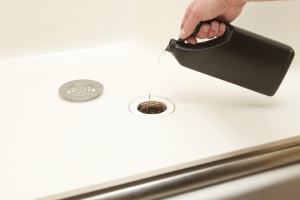 How many of you have used liquid drain cleaner to "help" clear your clogged drain? Don't worry, you're not alone!
While liquid drain cleaners seem like the quick and easy solution to that stubborn clog, it's actually not the best option for you to choose. In fact, when you use those certain products you could be doing some major damage to your drain lines that could cost you more down the road.
Here are a few reasons why you should count on Len The Plumber to clear your clogs, and not a bottle of liquid drain cleaner.
1. The chemicals found in the cleaners can actually damage your pipes.
The hydrochloric acid and other acidic ingredients in the cleaner can "eat away" at your pipes as it sits in your drain. In fact, older pipes are more susceptible to this kind of erosion. Even if you think your safe with copper pipes, think again! Liquid drain cleaner can damage any pipe material overtime.
2. The combination of chemicals in the liquid drain cleaners is bad for you.
Certain chemical combinations found in the cleaners are dangerous to inhale, and can be harmful to your skin if you don't wear gloves or take precautions. A recent article from Angie's List states that the fumes from drain cleaners can sting and irritate your nose and eyes as well! In fact, the fumes can linger long after the chemical was used.
3. It could potentially be a temporary fix.
There are many reasons why a drain could clog. You could have a backed up sewer line, broken pipe, or even something that isn't dissolvable lodged deep into your drain. Liquid drain cleaner won't be able to clear or fix any of these issues, which is why it's always best to call a professional.
If you have a slow-running bathtub or sink, think twice about pouring liquid drain cleaner down your pipes. Just leave the stubborn drain to us! Give us a call today or schedule your service online to take care of your home's plumbing system.
We're here for you 7 Days A Week, and remember… there's never an extra cost for evening, weekend, or holiday appointments!