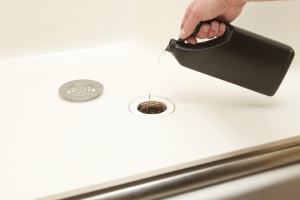 While everyone wants to relax when they're home, a clogged drain can add an extra hassle to your day. However, being proactive can keep that hassle from becoming a headache.  Here are some  helpful tips to know if a clogged drain is on its way, so you can get the right guys (hint, hint..us!) to the job.
Is there a funky smell from the sink?
As you wash away waste into the sink, it might not be the end of it! Overtime waste can get stuck inside of your pipes—especially if you put these items down your drains. In due time, this waste can rot, which will then release foul smells into your home. This is a telltale sign of a clog waiting to happen.


Does the pipe drain slowly?
As waste sits inside your pipes, they can also start to stick together. This accumulation of waste can buildup, obstructing the flow of the pipe. As the buildup gets bigger, the slower the pipe drains until an eventual halt altogether. Acting quickly can keep it from forming a complete clog, stopping the headache before it starts.
Does the drain get clogged frequently?
While liquid drain cleaner is easily accessible and often used for drain clogs, it's important to know that it's only a temporary fix.  Liquid drain cleaners can also lead to a completely different problem all together! Getting the job done right the first time can save you from problems in the future.
Spotting the signs of potential clogged drains can keep the problem small and easy to manage. When it comes to clogged or slow-running drains, our expert technicians are first in class.  Give us a call or schedule an appointment online to receive Same Day Service, 7 Days A Week!  And remember, we'll never charge extra for evening, weekends or holiday appointments.