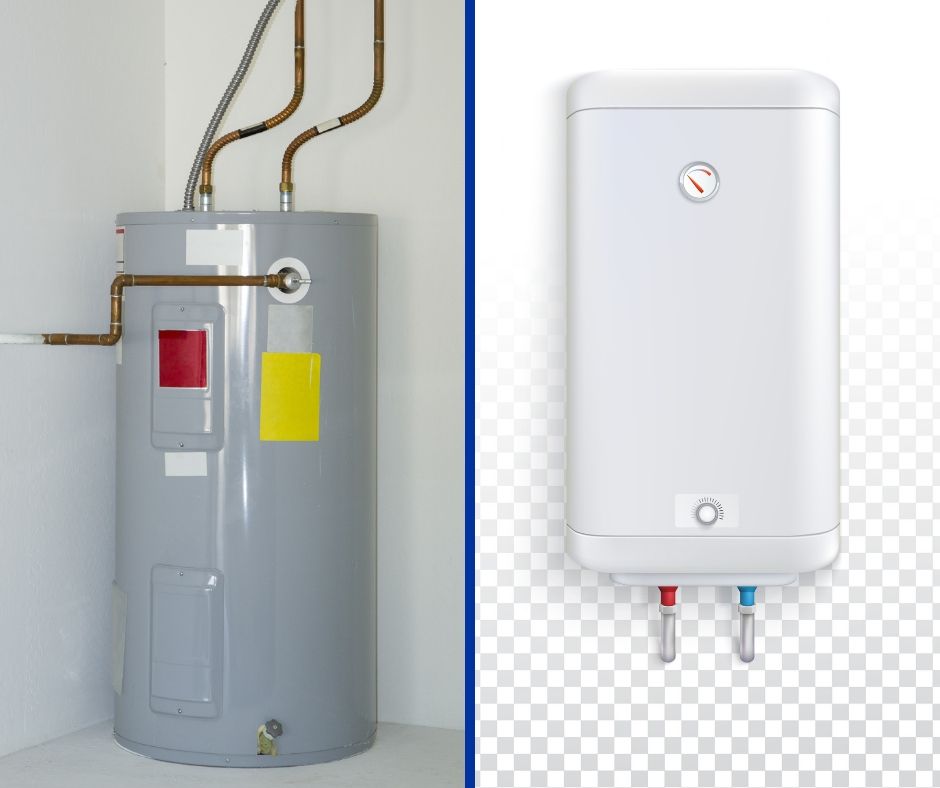 You may be heading out on vacation, but your traditional water heater is not taking a day off. Even when you are not at home, your traditional water heater is making sure it has a tank full of hot water at the ready. Take a look at the advantages of a tankless or on-demand water heater to decide if it could be the more energy efficient option for your home.
How does a traditional water heater work?
A single family storage keeps at the ready a supply of hot water from 20 to 80 gallons depending on the size of the tank. It works by releasing hot water from the top of the tank when you turn on the hot water tap. Cold water is then fed into the bottom of the tank and slowly heated up to the set temperature and kept at that temperature until there is more demand.
That means the tank is continually heating a tank full of water. Conventional water heater fuel sources include natural gas, propane, fuel oil and electricity. The U.S. Department of Energy calls this continual heating "standby heat loss." Only tankless water heaters do not incur this type of energy loss.
How do tankless water heaters work?
Just as the name implies, a tankless water heat works directly without the use of a storage tank. When a hot water tap is opened, the system draws cold water into the heater which warms it to the desired temperature.
You can learn more about tankless water heaters here.
Do tankless water heaters save you money?
According to the U.S. Department of Energy, for homes that use 41 gallons or less of how water each day, demand or tankless water heaters can be 24-34 percent more energy efficient than conventional storage tank heaters. For home that use double that amount of water- around 86 gallons per day- tankless or demand water heaters can be 8-14 percent more energy efficient than traditional units.
Dedicated tankless systems for specific units such as dishwashers or clothes washers can be up to 50 percent more energy efficient than traditional water heater units.
What is the lifespan of a tankless water heater compared to a traditional water heater?
Tankless water heaters on average perform for 20 years. The way the system operates means it has parts that are easily replaced. That means you can keep it working for longer without spending a lot on costly repairs.
Traditional tankless water heaters have an efficiency life of up to 12 years. Replacing water heaters before they fail or become inefficient will save you money in the long run.
Reset your water heater for Summer
Tankless or not, another easy way to save some cash this summer is simply by turning down the temperature setting of your water heater. Your water heater is secondly only to your hard-working HVAC system when it comes to consuming energy in your home. Most times you have your water heater temperature set at about 120 degrees.
During the hot summer days, we naturally take showers that aren't using 120-degree water. Turning down that temperature setting by just 10 degrees can result in a 5 percent reduction in energy use.
Tankless water heaters are a great option for that vacation home because they take up less space in your attic, basement or garage where they are installed than a traditional water heater. And, you aren't paying to heat water when no one is using the home.
Tankless water heaters might also be the perfect choice for your new home or replacement system for your traditional water heater unit. The U.S. Department of Energy has tool to help you decide. Take a moment to answer these few questions that might help you make that decision.
How much water do you use?
How long is the warranty for your system?
What are the features you want in your hot water system?
Your Len The Plumber professional can help you determine which system is right for your home. Give us a call today for upfront pricing and estimate on your water heater replacement or repair needs.