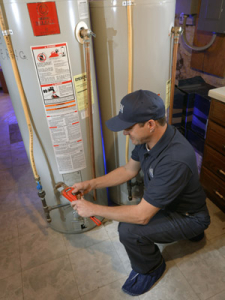 Have you heard about the new water heater changes this year?  If you haven't, don't worry!  We're here to tell you everything you need to know about the new regulations and more.
First things first, what type of water heaters will be affected and why?  Due to federal regulation changes, all residential gas, electric, and tankless water heaters will be required to be energy efficient.
I'm sure you're thinking: How does this affect me as a homeowner? 
1) The units will be larger in size
To ensure that the water heater is an energy efficient appliance, it will have more insulation and can possibly require additional parts.
The additional materials and insulation will add around 2" in diameter and can be up to 6" taller making the unit much larger. This could be a concern for some homeowners that have their current unit in a small space.
2) The new water heaters can be up to 25-35% more expensive
With the addition of insulation, higher maintenance costs, and extra required parts, the unit will be more costly.
Most importantly, who should be concerned about these changes?
1) Homeowners who have a water heater between 10-12 years old.
An average life of a water heater is anywhere from 10-12 years. If your water heater is approaching its later years or beyond its life expectancy, you could consider replacing it prior to April 15. If you don't know the age of your water heater, check out this website to find out just how old your unit is.
2) Homeowners that have their current water heater in a smaller confined space. Especially those who live in a multi-family home, apartment, or condo!
Depending on the gallon size of your water heater, the units can be much larger making it very difficult to fit in a small area or closet. If the new unit doesn't fit in the previous space, it can become costly having to move the entire unit to a different part of your home.
Lastly, when will these regulations go into place?  As of April 16, 2015 all manufacturers will begin producing the new, energy efficient water heaters.
While this is a lot of new information, our customer care team and service technicians can help answer any of your questions or concerns.  Our certified and experienced technicians are always able to provide our Baltimore-Washington customers with Same Day Service—even when you're in need of a new water heater!  And remember, there are never any extra charges for evening or weekend appointments.
To learn more the new water heater changes, watch this informational video.