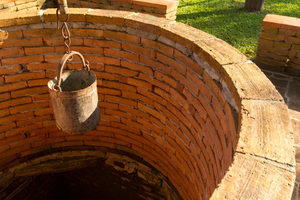 Having your own private well is a great option for many homeowners. Well water is free, reliable, accessible, and, usually mineral rich. There are some responsibilities that come with having a well on your property, however. One of those responsibilities is making sure it's properly filtered.
Having a well water filtration system installed is essential for all well owners. Water filtration systems remove the mineral deposits in water that can cause slow flow, hard water, and other problems. Here's how it works:
It chlorinates the water.
Introducing chlorine into well water helps kill bacteria and clean out impurities like organic matter particles and soluble metals. When utilized by a full well water filtration system, chlorine disinfects drinking water, eliminates odors, and takes away oxidizing agents.
Your well will need to be tested for its chlorine needs before a system is put in place. A plumbing professional can perform these tests on your behalf.
It evens out the water's pH levels.
Your well water's "pH level" refers to the amount of "potential hydrogen" located within its water. When you test your well's pH levels, you're finding out how acidic your water is. Once you know that, you'll be able to neutralize the acid in the water, ensuring it's safe and non-corrosive.
When looking into well-water filtration, you should always look for pH neutralizers. High pH levels lead to hard water. Hard water tastes bad, dries out skin and hair, and leaves a residue on surfaces and fixtures.
It uses heavy metal filters.
Heavy metals, iron especially, cause damage to most things they come in contact with. They leave behind telltale smudgy black stains on places like home showers, toilets, or appliances. It stinks like rotten eggs, too, which can permeate an entire home.
A well water filtration system significantly helps remove metallic impurities from the water your home.
Proper water filtration is key for homes that use a well for their water. It protects fixtures and appliances, keeps residents healthy, and reassures you that the water you're drinking is clean.
If you're interested in taking the next steps toward installing water filtration for your well, get in touch with the pros at Len The Plumber today. We'd be happy to walk you through the process.