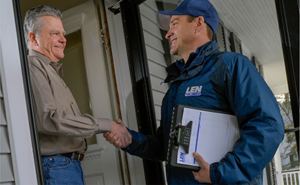 Sewer line problems can be a nightmare for any homeowner. Whether you're dealing with a sewer clog, a broken sewer line, or sewage backups, you need the help of a pro—and that usually starts with an estimate for sewer service.
When you contact a local plumber, like the trusted team at Len The Plumber, here's what you can expect during the estimate process.
Get a FREE estimate for your sewer service needs. Call (800) 950-4619(800) 950-4619 or contact us online. We proudly offer emergency service at no extra charge!
What Happens During a Sewer Service Estimate
When you contact us for a sewer service quote, our team will ask you some questions to get a better idea of the problems you're experiencing. Some of the questions we'll ask initially include:
Do you have any plumbing fixtures on a lower level, like a laundry basin, a floor drain, or a bathroom? If so, are any of these fixtures clogged?
Does the backup get worse when you run other plumbing fixtures?
Does the backup have a foul odor or a sewage smell?
Has this ever happened before? If so, when and what happened last time?
If we think you have a main drain clog, we'll schedule your service as an emergency, and we'll dispatch the next available technician ASAP.
Sewer Estimates: The At-Home Consultation
The next phase of the estimate process will be at your home, where our sewer specialist will perform a camera inspection to verify the location of the sewer line and its defects. Then, we'll:
Explain what we've found: We want you to know exactly what's going on so you can make an informed decision.
Present options for sewer line repair or replacement: We'll also explain whether trenchless sewer line replacement is an option.
Give you clear, accurate pricing for each option: At Len The Plumber, the price we quote you is the price you'll pay—always. Our training, experience, and thorough inspection process ensure pricing accuracy. In rare situations when there are unknown variables (like the depth beyond a collapsed pipe), we'll explain that in advance, before any work starts.
Gather all the information necessary to provide the sewer line service: This helps us properly plan for and efficiently carry out the sewer line repair or sewer line replacement service.
The at-home process can take about one to three hours, depending on access issues and the complexity of the sewer system.
Questions You Should Ask When Getting a Sewer Estimate
To make sure you choose the right plumber for the job, ask these questions during the quote process:
Are you licensed and will you pull a permit?
Will the on-site plumber be licensed?
Do you use subcontractors? If so, are they background checked?
Are you properly insured?
Are you OSHA-certified?
How many sewer repair or replacements do you perform per month and year?
Will the price increase for any reason after you start the job?
What is your warranty?
Did you perform a camera inspection to verify the location and scope of the project?
The best way to get a reputable, experienced plumber for the job is to contact Len The Plumber. We perform hundreds of sewer line repairs and replacements every month. No matter what your sewer line problems may be, we've likely seen it before, and we definitely know how to fix it!
Get Your FREE Sewer Estimate Now: Contact Len The Plumber
The experienced plumbers at Len The Plumber are ready to provide fast, efficient, high-quality service to repair and restore your sewer line. We're the team you can always count on!
Call (800) 950-4619(800) 950-4619 or contact us online now for sewer line service.
We proudly offer:
FREE estimates and upfront pricing
Fast response times for drain and sewer emergencies
Zero extra fees for after-hours or emergency service
Exceptional service and the highest-quality solutions!
For more than 20 years, Len The Plumber has been offering first-class plumbing services throughout Maryland, Northern Virginia, Pennsylvania, Delaware, and Washington, D.C. That's just one reason why our customers love us! But don't take our word for it—contact us to experience our excellence for yourself!