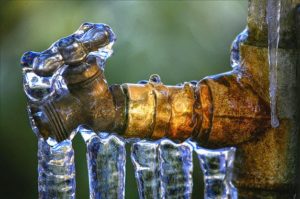 With cold weather approaching and the first frost on its way, it may be time to wind up the garden hose and store it away until next spring. If you've ever dealt with frozen or burst pipes, then you know how important it is to turn off your outdoor water supply lines correctly. Failing to properly drain and shut off your outdoor hose bibbs can lead to water being left in the supply line, which can freeze, expand, and split your pipes. Winterizing your outdoor faucets will prevent you from having to deal with the frustrations and damage resulting from frozen or burst pipes.
5 Steps to Prepare Your Hose Bibbs for Winter
Preparing your hose bibbs for winter's freezing temperatures isn't terribly difficult. Here are a few simple steps that outline how to drain hose bibbs for winter and ensure the integrity of your outdoor plumbing:
1) Locate your shut-off valve. Your hose bibb's shut-off valve will be inside your home, possibly in the basement, crawl space, or utility room.
2) Shut off the indoor valve(s). Keep in mind that if you have more than one hose bibb, each will have its own corresponding shut-off valve to close.
3) Detach your hoses. Next, you'll need to detach your hoses from your spigots, making sure to drain them before putting them into storage.
4) Store your hoses indoors. Keeping your hoses in heated garages or basements will protect them from damage caused by freezing temperatures outside and ensure they remain in good condition.
5) Leave faucets open for the winter. Once you've removed the garden hoses, turn any outdoor faucets to the "on" position, leaving them open for the winter.
Once you've completed these five simple steps, you can rest assured that your hose bibbs will be in good shape come spring! Winterizing your hose bibbs will save you the hassle and expense of dealing with frozen pipes or busted pipes. Once you learn to winterize your outdoor spigots, it's a breeze to complete this task each year!
Invest in Frost-Proof Hose Bibbs
For added assurance, you can invest in frost-proof hose bibbs for your home. Frost-free hose bibbs are installed with a slight downward pitch and the shut-off valve is located several inches inside your home. This maintains your tube integrity by preventing water from sitting in the pipes and freezing. If you don't want to worry about cracking hose bibbs or freezing damage during the winter months, installing frost-proof hose bibbs is the way to go!
If you need help winterizing your home's plumbing or you'd like to learn more about frost-proof hose bibb installation, give Len The Plumber's team a call today at (800) 950-4619(800) 950-4619 or reach out online! We're standing by to bring you Same Day Service, 7 Days a Week!