Let's be honest, your toilet is a very important part of your home, and when it's out of order you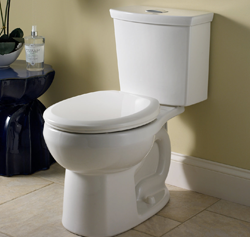 need a plumber immediately!  The question our experts get often: can we repair the toilet or should we replace it?  Depending on the issue with your toilet and the age, it may be a better idea to replace it with an upgraded fixture.
There are many different types of toilets to choose from, including different colors and styles depending on your taste, so how do you choose?  We'll lay it out for you…
Pressure Assisted Toilet
The flush! Known for its "strong" flush, these toilets are less likely to allow clogs and are well-suited for frequently used bathrooms and older homes where additional force is required to push waste through older pipes.
The EPA estimates that if you replace your home's pre-1994 toilet with a pressure-assisted toilet, you can save up to 4,000 gallons of water a year…now that's water efficient!
Because there are fewer moving parts, these toilets are less likely to require maintenance.
Gravity Toilets
Gravity toilets are the most common in households today and have been around for decades. Due to the simple design, if repairs are ever needed the required parts are easy to be found and the toilet itself is easy to repair.
It's water efficient and cost efficient!  More bang for your buck…who doesn't like that?
Choosing the right toilet for your household depends on who lives in your home, the frequency of use, and lastly, personal preference.  You even have the option of choosing a bowl shape and height!  An elongated bowl tends to be more spacious with added sitting room, and some brands even offer a 'Comfort Height' option that is taller than your average toilet.  This is great for those who have difficulty bending their knees or sitting in a lower position.  Regardless of what type or style of toilet you choose, upgrading your toilet can save you money on your water bill and can also reduce the risk of toilet clogs.
Len The Plumber technicians have replaced thousands of toilets over the past 20 years of business and have the skills and expertise to take on any job!  When you hire us, our technicians will present multiple options upfront and YOU can choose what will work best for you and your family!  Give us a call or schedule an appointment online for Same Day Service, 7 Days a Week.