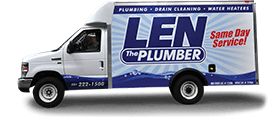 It's easy to forget about your garbage disposal until it stops working! If you have loud noises coming from your kitchen sink ora garbage disposal that has suddenly stopped working, don't reach into your sink. Reach for your phone and call Len The Plumber!
Call (800) 950-4619(800) 950-4619 or contact Len The Plumber online for same day garbage disposal service at no extra cost.
Garbage Disposal Repair
Garbage disposals are designed and built to be durable. That doesn't make them immune to wear and tear, however. It also doesn't mean they can handle anything put down a kitchen sink. No matter when or why garbage disposals stop working correctly, Len The Plumber can:
Efficiently and accurately diagnose the problem
Provide fast, reliable repairs to restore your disposal
If we discover that repairs won't provide the lasting solution you need, we'll let you know that it's time for garbage disposal replacement so that you can make the best decision and investment for your home.
To schedule garbage disposal repair "near me" in D.C., DE, MD, PA, or VA, simply call Len The Plumber at (800) 950-4619(800) 950-4619 or contact us online now.
We offer same day service at no extra cost!
Garbage Disposal Replacement & Installation
Whenever you're ready to install a new garbage disposal, our experienced plumbers can help you with everything necessary to get your new unit up and running. That means you can rely on us for help:
Selecting the best brand and type of disposal, based on your needs and budget
Removing your old disposal without damaging any existing fixtures
Expertly installing your new unit, ensuring all connections are flawlessly set up so your new disposal works perfectly from day one!
Call (800) 950-4619(800) 950-4619 or contact Len The Plumber online to schedule garbage disposal installation or replacement today!
Garbage Disposal Maintenance Tips: What to Avoid Putting Down Your Disposal
Although it may seem like your garbage disposal can "eat" anything, even the best units can get indigestion from time to time! To keep your garbage disposal in peak condition for as long as possible, practice some easy DIY maintenance tips by never putting these items down your unit:
Grease, fats, lard, and oils
Pulpy materials, like paper or wood
Large or hard food items, like peach pits, coconut shells, and pineapple shoots
Meat, skin, and bones
Fibrous foods, like celery and banana peels
Starchy foods, like rice and pasta
Another good rule of thumb when it comes to garbage disposal maintenance is this: Whenever in doubt, throw it out (in the garbage can)!
Is it too late for garbage disposal maintenance? Do you have a broken garbage disposal? No problem—Len The Plumber is here, ready to help!
Call (800) 950-4619(800) 950-4619 or contact Len The Plumber online to schedule garbage disposal service in Baltimore, Washington, D.C., Northern Virginia, Delaware, or the Philadelphia area.
How to Troubleshoot Minor Garbage Disposal Clogs: 3 Helpful Tips
Not every garbage disposal jam requires a call to the plumber! If your disposal stops working, here are a few things you can try before you pick up the phone:
Press the "reset" button: Turn the disposal off and wait a few minutes. Then, firmly press the "reset" button, located on the bottom of your disposal.
See if your disposal can be unjammed from the bottom: There should be a small, hexagonal hole where an Allen key can fit. Turning this will allow you to turn the flywheel and attempt to dislodge the clog.
Check for loose bolts if your disposal is leaking: Unplug the appliance before checking for loose bolts, and tighten any you find. If the leak continues, cover the bolt heads with plumber's putty to seal them from the outside.
If you still can't get your disposal to work—or if you'd rather leave the troubleshooting to a pro, just call Len The Plumber! We'll be out that day to fix your garbage disposal ASAP.
Schedule Garbage Disposal Services in DC, DE, MD, PA & VA
For top-rated garbage disposal services from a trusted local plumbing company, contact Len The Plumber. We will schedule your garbage disposal service at a time that's convenient for you, and we'll come with a fully stocked truck, ready to provide the service and solutions you need!
Call Len The Plumber at (800) 950-4619(800) 950-4619 or contact us online to schedule garbage disposal service today!
When you choose Len The Plumber for garbage disposal services, you can always expect:
Flexible financing options, with approved credit
Same day and emergency service at no extra cost
Fully licensed, insured, and bonded plumbers who will put your needs first while always treating you and your home with respect
Exceptional workmanship and top-quality solutions!
These are just some of the reasons why Len The Plumber has been a leading plumbing company throughout Baltimore, Northern Virginia, Philadelphia, the Delaware Valley, and Washington, D.C. for more than 20 years. But don't take our word for it—contact us to experience our excellence for yourself!
Check out the full list of communities that Len The Plumber services. »