Tree root infiltration is a fancy way of saying that tree roots are in your sewer line. Root infiltration is one of the biggest causes of clogs in your main sewer drain and the number one need for plumbing rooter service. Older homes have sewer lines that were made from clay, cast iron, or other porous piping that can crack, collapse, or corrode due to age as well as shifting or freezing of the ground. These are some of the ways that invasive tree roots find their way into your pipes.
If you're having problems with the drains inside your home or water has begun to back up, there's a chance your sewer line has become obstructed due to tree roots or another blockage. Our sewer line experts can help homeowners in the Baltimore; Washington, D.C.; Northern Virginia; and Philadelphia areas with expert removal of invasive tree roots in your sewer pipes.
No matter what issue you're experiencing, we can diagnose and solve it! Give us a call at (800) 950-4619(800) 950-4619 or contact us online to schedule your appointment.
How Do Roots Get In Your Sewer?
Tree roots seek out water sources to grow. If a root finds a crack in your sewer pipe, it will latch on and grow into the pipe in order to get to the water inside. As you can imagine, this can cause many problems with clogs. The roots themselves will grow into a tangle that causes a clog. As you use your home's plumbing system, grease, paper, and other debris that goes down through your sewer line will collect within the roots which can cause major problems. This diagram outlines how roots make their way into your sewer line.
Stage 1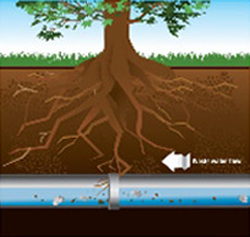 Stage 2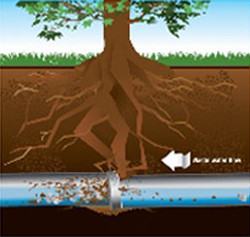 Stage 3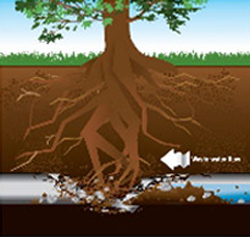 Signs of Roots in Pipes
One of the sure signs that you have an issue with your sewer line is that multiple plumbing fixtures are backing up, such as toilets, sinks, and showers. Another sign is if you are finding that another drain is backing up when you flush the toilet, or if the toilet won't flush and instead is backing up and/or bubbling. Any of these issues is a sign to call a plumber.
If you've noticed these signs or are concerned at all about the state of your plumbing system, give Len The Plumber a call now at (800) 950-4619(800) 950-4619 to schedule rooter plumbing service!
Tree Root Infiltration FAQs
Does homeowners insurance typically cover tree roots in sewer lines?
The answer to this question is complicated. Most homeowners insurance policies, at best, partially cover damage related to tree root infiltration. The key word here is "damage." If there are tree roots in your sewer line but they haven't caused a break or crack in the pipe, there is no actual "damage" by the insurance company's definition and therefore nothing to cover. If you want the tree roots removed by a plumber anyway (which is recommended), it is considered a maintenance issue and something you'll have to pay for yourself. Homeowners insurance often doesn't cover water damage due to backups, either, but most companies offer an add-on to have this included in your policy. Contact your insurance company to get details on your coverage.
Will bleach, copper sulfate, or rock salt kill tree roots in a sewer line?
Some DIY websites suggest pouring these substances into your toilet to kill tree roots; however, they can be harmful to your pipes (NEVER put them in your sink or tub drain!) and are often ineffective. If you have a minor tree root problem, these methods might get rid of the issue temporarily—but the tree roots will return if more effective measures aren't taken. Len The Plumber's expert technicians can use advanced equipment to remove roots from pipes and ensure they don't come back. If your pipe has been irreparably damaged, we can use trenchless pipe bursting to lay a new line without major damage to your landscape!
Our Team Can Get Rid of Tree Roots in Sewer Lines!
Our expert technicians at Len The Plumber can work with you to clear the root intrusion in your sewer line, and as a courtesy, we'll even provide a video pipe inspection to see exactly where the problem is. Len The Plumber specializes in sewer line repair and replacement, having done thousands of them over the years. You can rest easy knowing you are dealing with professionals that see and fix tree roots in drain and sewer lines every day.
Call (800) 950-4619(800) 950-4619 for help in the Baltimore; Washington, D.C.; Northern Virginia; and Philadelphia areas, or check out our service areas for a full list of the communities that Len The Plumber services.