How do you like to unwind after a long, tiring day? While everyone has their own routines and guilty pleasures — it's safe to say that many enjoy a long, hot shower or bath to wash away the stress (ugh, such heaven). To give yourself the spa experience you know you deserve, this is what you need to do: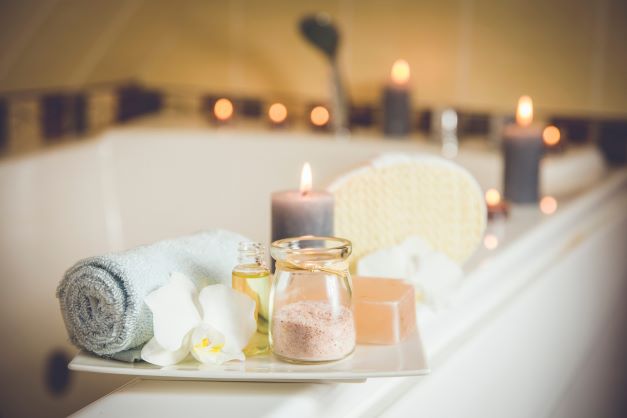 1. Control Your Lighting
Soften up the mood in your bathroom by installing a dimmer switch. This will allow you to control how much light you want while you kick your feet up in the tub. Having a bright light shining directly on you while you soak isn't exactly relaxing. So opt for this mood-enhancing switch to help give you a sense of calm.
2. Remove Clutter
When you walk into a spa, do you notice how clean and simple everything looks? This is because clutter can cause stress, which is why all items remain out of sight — the same should go for your bathroom. Make it a point to throw away any unused toiletries and to place the rest in hidden storage spaces. For smaller bathrooms, consider placing toiletries in small jars or baskets (this can become a lovely part of your bathroom decor).
3. Showertime Massages
Installing a deep soaking tub is the epitome of receiving spa-like treatment. However, it's not always the most affordable option (even though we all dream to own one, *swoon*). The most affordable option is installing a massage shower head. With multiple settings to choose from, you can get massaged by the tiny hands of water droplets.
4. It's In the Air
Add some ambiance to your newfound spa by placing soy-based candles throughout the room (soy is the cleanest burning for air quality purposes). Not only will you be able to stare at a flickering flame as you unwind, but you'll also be able to enjoy the scents of the season. For those who aren't going to be on top of their candle safety, opt for natural essential oils and diffusers.
5. A Tray For Your…
Now, what would a home spa be without a glass of your favorite bubbly or wine? We're sure you have it stocked in the kitchen along with a few glasses, but do you have an area in your bathroom to place your most prized possessions? This is where a tub tray or wine holder will come in handy! Now you'll have a place to put down your glass (or entire bottle) when it's time to get cleaning.
Creating your own personal spa doesn't require a ton of money nor a lot of remodeling — just a few additional pieces! When you need new plumbing fixtures installed for your own personal spa (or you just need a leak fixed), contact Len The Plumber. If you're looking for a reliable plumber, check to see if you live in one of our many service areas!