Leaking water pipes behind the walls and above ceilings can cause serious issues for homeowners. Not only can they cause your water bills to skyrocket, but if left untreated, they can also cause serious water damage to your home's foundation!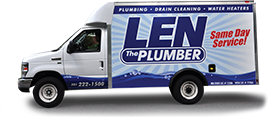 If your water bills are going up and your water pressure is going down, call Len The Plumber as soon as possible!
At Len The Plumber, we've seen and have experience with the damage associated with leaking water pipes. In other words, we know how to help. Our Baltimore, Washington, and Northern Virginia plumbers are leaky pipe repair pros and we're available to take care of pipe repairs and replacement seven days a week!
If you have leaking water pipes, don't wait! Fill out the form to the right or pick up the phone and call us today! One of our expert technicians will have your leaking water pipes fixed up in no time.
Our Pipe Repair Services
At Len The Plumber, we've seen it all when it comes to leaking or damaged pipes. When you have a leaky pipe, give us a call and let us make your life easier. We offer fast, full-service pipe repair and replacement all around Baltimore, Washington, D.C., Northern Virginia, Delaware, and the Philadelphia area, 7 days a week. Call us today if you have:
Call Len The Plumber today at (800) 950-4619(800) 950-4619 if you suspect you have a leaky pipe in your home. Our expert technician will arrive at your doorstep promptly and assess the damage, providing comprehensive repairs at a competitive price!
Signs You Have a Pipe Leak
If you suspect you have a leaky pipe, it can be hard to determine the source. Here are some common indicators that can alert you to whether you've sprung a leak somewhere in your home:
A recent hike in your water bill. This is a clear indicator that something is amiss with your plumbing system. While your water bill will naturally increase slightly during the summer months if you're frequently watering your lawn or garden, if you notice a consistent rise in your bill, there's a good chance you are losing water due to a leak.
Visible mold and mildew. Not only is visible mold and mildew a health hazard, it also points to a hidden pipe leak. If you notice mold or mildew forming on your walls or ceiling, it definitely warrants a call to your local plumber for repairs!
Musty odor in your home. If you have a teenager, you're probably used to having funky smells waft through your home. However, if you start to notice an unfamiliar musty stench in the air, it could be mold or mildew hiding out in the walls, vents, or under the floor.
Stained ceilings. Dingy water marks on your ceiling are a sure sign that something is going on beneath the surface. These may be barely noticeable at first, but if left unattended, they can do serious damage.
A running water meter. One surefire way to determine if you have a water leak is to shut off all of the water in your home and see if your water meter continues to run. If you've turned off the water, but your meter is still ticking away, you've probably got a leak on your hands.
Cracks in your home's foundation. While homes naturally settle over time, leading to hairline cracks in the ceiling and drywall, a sudden widening of these cracks could indicate an underlying leak.
The most important thing to remember when it comes to pipes is that early leak detection is key. It will not only save you money on repairs, but it will protect the overall integrity of your home. Len The Plumber is committed to helping you deal with your leaky pipe, however big or small it may be!
Choose Len The Plumber for Your Home's Leaky Pipe Repairs
Don't let leaky pipes cost you time or money! Call Len The Plumber and talk to one of our friendly customer service representatives about your leaking pipes and schedule your appointment today! We service the Baltimore, Washington, D.C., Northern Virginia, Delaware, and Philadelphia area and are ready to help you.
Some of the communities served by Len The Plumber include:
Burke, Virginia
Canton, Maryland
Check out our service areas for a full list of the communities that Len The Plumber services.