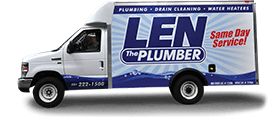 Your plumbing fixtures give you immediate access to the water you need in any area of your home. So, if your sinks, toilets, faucets, or other plumbing fixtures start to act up or break down, you don't want to wait too long before getting them repaired or replaced. That's because broken or worn-down fixtures can lead to leaks and bigger plumbing problems that may end up costing you more the longer they go unaddressed.
At Len The Plumber, we repair and replace all types of home plumbing fixtures. Plus, we offer same day service at no extra cost and upfront written estimates, so there are never any surprises about costs.
Call (800) 950-4619(800) 950-4619 or contact Len The Plumber online for plumbing fixture repair or replacement service.
We never charge extra for same-day service, and we offer the full range of plumbing services throughout Baltimore, Philadelphia, Northern Virginia, Delaware, and the Washington, D.C. area.
Signs You Need Plumbing Fixture Replacement
Replacing a plumbing fixture is usually pretty straightforward. But how do you know when it's time for plumbing fixture replacement? Here are some telltale signs to be on the lookout for:
Low efficiency: Old plumbing fixtures weren't designed with water conservation in mind. For instance, kitchen faucets installed before 1994 use up to seven gallons of water per minute, as compared to new models that use no more than 2.2 gallons per minute. Similarly, old toilets use around 3.6 gallons per flush while new low-flow models average 1.6 gallons per flush. Replacing these fixtures can result in tremendous water conservation and lower utility bills.
Low water pressure: Over time, sink and tub faucets can accumulate hard water mineral deposits that restrict water flow. That can mean you end up with a mere trickle, even when the tap is open all the way. Whenever this happens, take it as a clear signal that you could benefit from new plumbing fixtures.
Cracks, leaks, or other damage: Consider the physical condition of your fixtures to help you know when to install new ones. For instance, a leaky bowl or faucet may be repairable, but depending on what's causing the leak, you may need to replace the entire fixture. Either way, the problem warrants calling a plumber.
Fixture failure: Mechanical devices such as garbage disposals, sump pumps, and sewage ejector pumps are built to last. That doesn't mean, however, that they'll last forever. So, whenever they've reached the end of their service life, you'll need a plumber to replace them.
Outdated appearance: Your fixtures may operate just fine, but you can always change them out as part of a kitchen or bathroom remodel. The modern aesthetics of new sinks, faucets, and toilets can transform the look of your home while offering greater efficiency!
No matter why you decide to replace your plumbing fixtures, you need an experienced plumber for the best results. It's the best way to ensure your new plumbing fixtures work correctly from day one!
Notice any of these warning signs of fixture problems? If so, call (800) 950-4619(800) 950-4619 or contact Len The Plumber online to schedule plumbing fixture replacement or installation now.
Full-Service Plumbing Fixture Repair & Replacement Company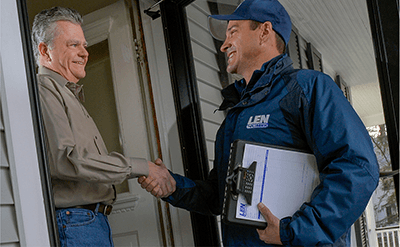 No job is too big or too small for our knowledgeable team to handle. We aim to match the right plumber to each call to ensure a job well done every time. We also keep our trucks well stocked so that we can get your plumbing fixture repaired or replaced in a single visit whenever possible.
As a full-service plumbing company in the Mid-Atlantic area, we repair, replace, and install all types of plumbing fixtures. Some of our fixture services include:
To schedule prompt, reliable plumbing fixture services, please call Len The Plumber at (800) 950-4619(800) 950-4619 or contact us online today!
Schedule Plumbing Fixture Repair or Replacement in DC, DE, MD, PA & VA
At Len The Plumber, our goal is simple—offer trusted services from knowledgeable professionals to guarantee customer satisfaction. If that's the type of experience you want to have when repairing your toilet or installing a new sink, then reach out to us today! We're backed by more than two decades of experience, as well as a long list of highly satisfied customers.
Call (800) 950-4619(800) 950-4619 or contact us online for plumbing fixture repair or replacement in Maryland, Pennsylvania, Delaware, Northern Virginia, or the Washington, D.C. area.