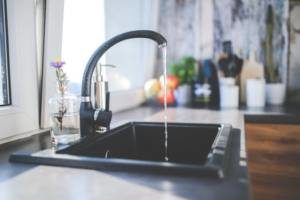 Garbage disposals are the power horse of the average kitchen. They suck away food waste, slurp up flat soda, and in general help make homes a little less wasteful and a little more eco-friendly.
It's not too difficult to keep your garbage disposal working at its best. First things first, know what things aren't supposed to be put into the garbage disposal.
Fibrous materials, coffee grounds, liquid grease, bones, fruit pits, or eggshells. These are all things that can dull blades, cause clogs, or generally impede the performance of your garbage disposal. Next up is regularly cleaning it. We've listed a step-by-step process for deep cleaning your garbage disposal below.
First, flush it out with water
This is going to work to dislodge any loose food waste, dirt, and grime. The best way to do this is by plugging the opening to your garbage disposal and filling the sink until there are around 3 inches of hot, standing water. Add some dish soap, swish it around, and then remove the plug so it can flush through the disposal's pipes. Hot water is needed because it will liquify any grease or similar substance built up on the insides of the pipes.
Next, throw some ice cubes and salt down the disposal
This might seem like a peculiar step, but trust us when we say it works. After 2 cups of ice and 1 cup of salt are in the disposal, turn it on. It'll be loud, but don't worry — that's part of the process. Turn on water from the tap to run during this process, and the combination will work to remove sludge and other debris from the inner walls of your disposal. An added bonus of this step is that grinding ice works to sharpen your garbage disposal blades, improving their overall performance.
Now, you want to give it a good scrub
Let us preface this by telling you that you absolutely should not put your hand inside your garbage disposal. We recommend using a long-handled scrub brush or an old toothbrush to reach inside and manually clean the inner walls of any remaining debris. You can do this with just water or with the help of some dish soap to be especially thorough. Like with previous steps, rinse it out with water afterward.
Voila! Your garbage disposal is now clean. If you'd like to take further steps to freshen up the useful appliance, you can throw some citrus peels or essential oils inside and run it for an added fresh scent.
If you're interested in a garbage disposal installation or have a clog you can't quite clear, get in touch with the pros at Len The Plumber.