Did your jaw hit the floor when you read last month's water bill? If this monthly expense keeps costing you more and more each month, take a minute to stop and think, "What can I do to pay less?" Luckily, reducing your monthly water usage is more simple than it sounds!
Add Water-Efficient Hardware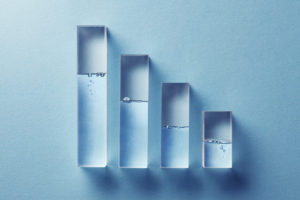 It can be difficult to track how much water you're using every time you turn on a plumbing fixture or appliance. To help you use less water when you're using these fixtures, install hardware that will save water for you! Add aerators and flow regulators to each faucet in your home to use less water without sacrificing water pressure. Other water-saving hardware includes dual-flush toilets and low-flow shower heads — both of which can save you gallons of water per day.
Inspect Your Home for Leaks
Leaks can happen at any moment, be any size, and aren't always easy to identify. There can be a slow-drip leak at one of your faucets, a pinhole leak in a pipe behind the wall, or even a plumbing fixture that's not connected properly. To discover if your home does have a leak without doing too much searching, you should:
Mark down the water level at the water meter.
Make sure no water is being used for the next two hours.
Check the water meter again and see if the water level has gone up.
If the water level has risen, call a plumber to help you find the leak.
Efficient Appliances
Appliances and fixtures that were installed in the early 2000s or earlier should be replaced with water efficient models. Choose dishwashers, washing machines, toilets, faucets, and showeheads that have high efficiency ratings. At first you may be turned off by the price tag, but you'll end up saving more money with your monthly water bill savings!
Reducing water usage in your home is simple, you just have to know how to get started! When you're looking for a plumber to repair leaks or install new fixtures, contact Len The Plumber. To learn more or to make an appointment, find one of our location's service areas near you!