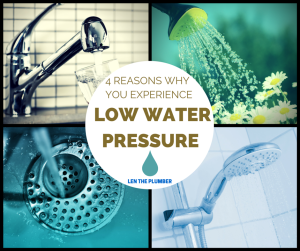 Few things are more frustrating than dealing with low water pressure in the home. Whether you're showering, washing the car, or watering your garden, low water pressure can be a huge nuisance that makes everyday tasks a challenge.
The best way to ensure low water pressure doesn't negatively impact your everyday routine is to understand what causes it to occur in the first place. You may be able to prevent the problem altogether, and — in some cases — may even be able to use a DIY repair to remedy the issue in no time!
4 Reasons for Low Water Pressure in the Home
There are many different reasons why your home water pressure may be suffering. Low water pressure can usually be attributed to one of the following common causes:
Dirty Aerator Screens: Most modern faucets and showerheads are equipped with an aerator located at the tip. This feature is important for enhancing water efficiency, filtering out debris, and preventing splashing. However, when left to accumulate mineral deposits, these aerator screens can end up slowing the flow of water from your fixtures.
Showerhead Needs Replacement: If your showerhead hasn't been replaced in decades or if you have a low-flow showerhead installed, it may be time to replace the fixture.
Hidden Leakage Elsewhere: It may be that you have an underlying leak elsewhere in your home that's ultimately causing low water pressure throughout your system. Leaks are not always apparent and can wreak havoc on your home's plumbing system and personal property when left unresolved.
Corrosion Inside Pipes: With time, it's common for pipes to experience corrosion — especially if they're galvanized. Corrosion in your pipes can significantly reduce your water pressure.
While some of the aforementioned issues require a trained professional to fix, others are much easier to resolve on your own. Read on to find out how you can fix low water pressure in your home!
Tips for Increasing Water Pressure
Depending on what the underlying cause of your low water pressure is, you may be able to resolve the problem yourself. There are a few easy tricks that you can try before it's time to call in the professionals:
Clean Faucets & Fixtures: If you suspect a dirty aerator screen is to blame, disassemble the aerator and rinse off the debris buildup. You can also soak the screens in an equal mixture of white vinegar and water to clean them before re-installing.
Pressure-Reducing Valve: Most homes have a pressure-reducing valve installed where the main line enters the residence. This device ensures that the water supply for your home is at a safe pressure; however, sometimes it can be set too low. To increase the water pressure, turn the knob clockwise, being careful not to damage the plumbing.
Main Shut-Off Valve: This valve is located next to your water meter. If it's in a closed position, this could be the reason for low water pressure in your home. Be sure that the valve is fully open to increase your water pressure.
By trying these DIY tricks before calling a plumbing professional, you can save yourself time and money. Sometimes, however, the issue may be more complex than you initially thought. When that's the case, it pays to have a knowledgeable team of plumbing technicians available to take on the challenge.
When to Contact a Plumbing Professional
If your DIY tricks didn't help and you suspect that low water pressure may be caused by a more serious plumbing problem, contact the team at Len The Plumber for the expert service you need. Our team is specially trained to use the most advanced industry tools and techniques to deliver long-lasting solutions that enhance your home's water pressure.
Make your water pressure problems a thing of the past by contacting the plumbing professionals at Len The Plumber today!