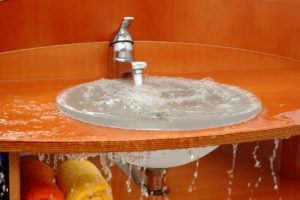 Do you when plumbing emergencies usually happen? If you guessed — "when you least expect it" — you're correct! It's important for every homeowner and renter to know this list of emergency plumbing tips so you can avoid a complete plumbing disaster.
Tools to Always Have on Hand
Five Gallon Bucket – Whenever you're attempting a plumbing repair or a leak springs, it pays to have a large bucket on hand to help catch the water. Water damage and mold are hard to remove and can cost a fortune, so keep a big bucket close by.
Multiple Plungers – Having clogged toilets and drains can prevent you from using plumbing fixtures altogether. Make sure you have both a flange and drain plunger. One is optimal for toilet clogs while the other is meant for sink, bathtub and shower drains.
Basic Hand Tools – Small plumbing repairs and maintenance can sometimes be handled by the homeowner, but the right tools will be needed. Inside of your toolbox, you should have an adjustable wrench, medium sized slip joint pliers, a multi-bit screwdriver, Allen keys, a pair of needle nose pliers, plumber's epoxy, and lots of duct tape!
Plumbing Tips to Always Keep in Mind
Main Shut-Off – Every homeowner and renter should know where the main shut-off valve is and how to operate it. By turning this valve off, you'll be able to prevent water damage from occurring if there's ever a leak. The water should also be turned off before any major plumbing repairs are made, just in case anything goes wrong.
Isolation Valves – In addition to the main shut-off valve, there are isolation valves with each plumbing fixture. These valves can be turned off to stop the flow of water to that specific fixture, which are designed to make repairs safer. Make sure each isolation valve is turned on and off at least once per year to ensure they all are working properly.
Double Wrenches – Anytime you need to use a wrench to loosen or tighten a plumbing pipe, try to use two wrenches. By turning each one in opposite directions, the wrenches will absorb the stress rather than the plumbing itself. This is called "backing off."
It's important for every person to know what to do during a plumbing emergency and to be properly prepared. For those in need of plumbing repair and replacement, contact Len The Plumber. If you're looking for a reliable plumber, check to see if you live in one of our many service areas!