Halloween is less than a week away! Have you carved your pumpkin yet? Whether your jack-o-lantern is already on your porch or if you still have to pick out your pumpkin, your neighborhood plumber has some advice for you: Do not put pumpkin seeds or pulp down the sink or garbage disposal!
The pumpkin innards or "guts" are slimy, gooey fibers that can cause damage to your garbage disposal and sink drains. In your sink, the fibers from the pumpkin can dry and harden causing a clog in your drain or an unpleasant odor. Additionally, damage can also be caused to your garbage disposal if the fibers become wrapped around the blades. Seeds can also contribute to a drain clog or cause damage to your disposal blades. Fibrous and seed-filled foods, like pumpkin, are among the top 7 things you shouldn't put down your garbage disposal!
As an alternative to throwing the seeds in the trash, you can cook them for a tasty snack and after Halloween, those old pumpkins can be used in your garden. Check out our suggestions for some fun activities:
Old Bay Pumpkin Seeds

For a Maryland twist on your pumpkin seed recipe, try them with an Old Bay glaze!
Pumpkin Planter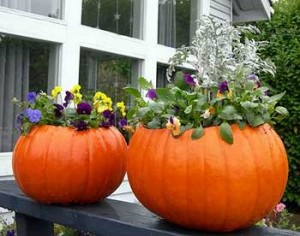 Whether you have a carved or uncarved pumpkin, you can use it
as a festive flower planter. If your pumpkin is carved, just make sure to pack it tighter with soil to prevent any from falling out of the jack-o-lantern face. After a few days on your porch or deck, you can place your entire pumpkin planter in the ground. The pumpkin will naturally compost as a fertilizer for the flower.
From small projects to big jobs, Len The Plumber is here to fix your plumbing issues no matter the season. For any holiday or seasonal plumbing issues, Len The Plumber is here to provide Same Day Service 7 Days a Week, with no extra charge for evening, weekend, or holiday appointments!