As we all know, this year has been particularly rainy, which has led to dangerous, heavy flooding in some areas.  A properly working sump pump may be the difference in whether your home stays safe in detrimental summer storms. More storms are making their way towards our region this weekend, and we want to make sure your home is prepared—especially your sump pump.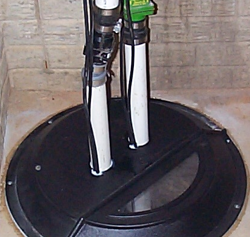 If you're able to test your sump pump to make sure it's working in full force, use these tips:
Locate the outside pipe that catches the water as it drains from the pump. Make sure the inside of the pipe doesn't have any dirt or debris clogging the drain.
Fill a 5-gallon bucket or a large cooking pot with water. Slowly pour the water into the sump pit and watch the water level within the pit.
The float on the sump should rise and the pump will kick on well before the water reaches the top of the pit. As the pit empties, the system should turn off.
If the float doesn't rise or the pump doesn't turn on/off automatically the pump should be further inspected.
This may seem like common sense, but make sure the pump is plugged into a working outlet.
Heavy thunderstorms can lead to power outages, which can be another headache for homeowners.  More importantly, a sump pump relies on electricity to run so when the power goes out your pump will stop working.  We always suggest that homeowners install a sump pump battery back-up system as another line of defense!  In the unfortunate event that you find water in your basement, be sure to read these tips before heading down there: "What To Do If Your Basement Floods".
Always remember that Len The Plumber is here for you 7 Days A Week!  If you find that you may a need a sump pump repair or sump pump replacement give us a call or schedule an appointment online and we will provide you with Same Day Service.