Giving your dog a bath might seem like a simple process, but everyone knows how messy things can get. You want to give your furry friend a good cleaning, but things can get hectic real quick! Here's a list of tips that will help you clean your pup with minimal mess.
Bathing Frequency
How often should you bathe your dog? The answer varies, but you really shouldn't wait months like most owners do. For dogs with skin infections, allergies, and those who are constantly making a mess, more frequent bathing is recommended. Aim for once every other week.
Gather Your Supplies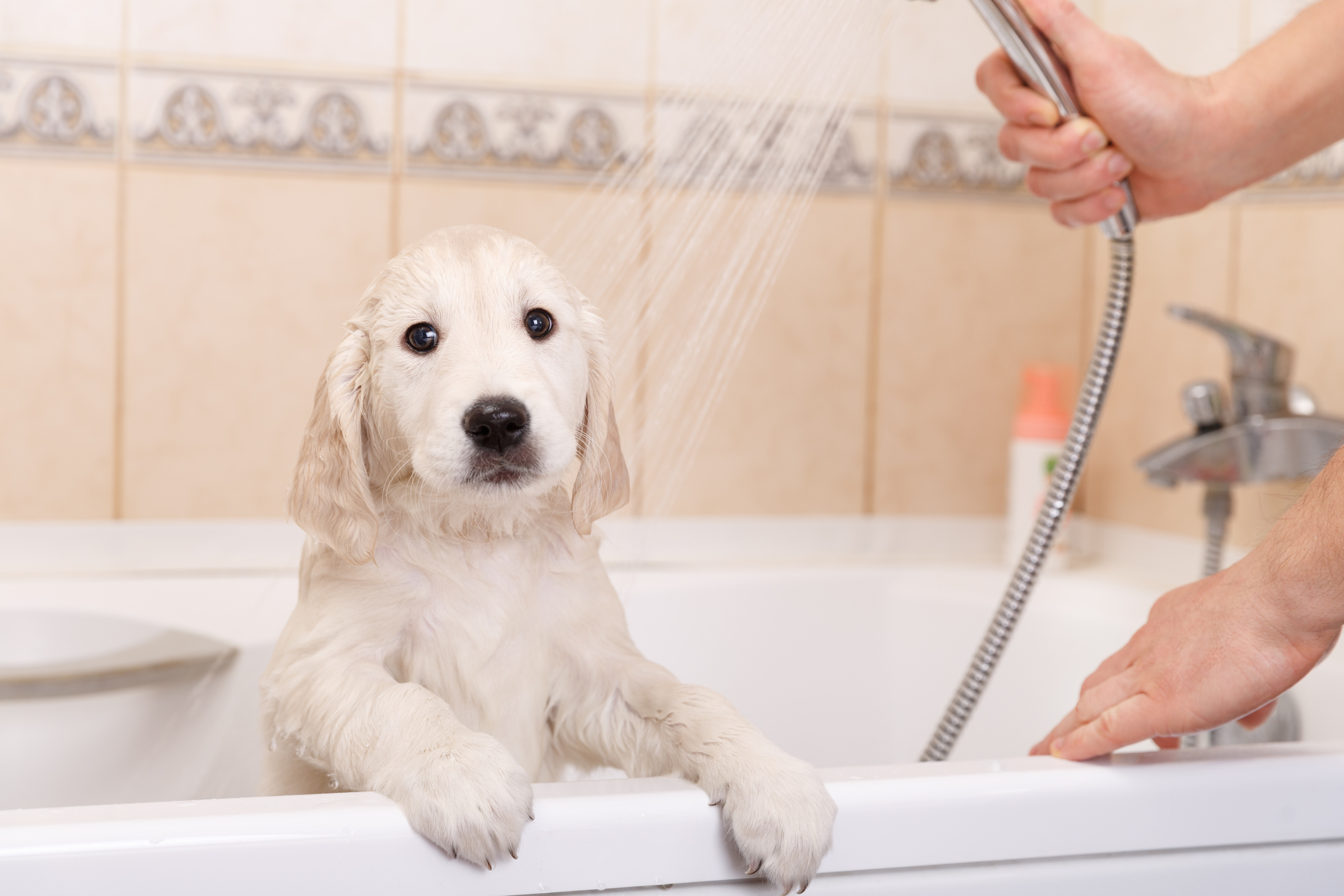 Before you call your pup into the bathroom, make sure you have all of your supplies ready to go.
Shampoo recommended by your veterinarian for that specific breed (or for a specific skin condition)
Cotton balls (to place inside of its ears)
A brush
Multiple towels
Drain blocker (or a piece of steel wool)
Before the Bath
Right before you place your pup in the tub, brush your pet to remove as much loose hanging fur as possible. Skipping this step will fill your tub with more hair than you care to have, which will end up down the drain. Plumbing pipes filled with hair are a common cause of blockages that will inevitably require drain cleaning.
Wash Away
Begin washing your furry friend by rinsing them off with lukewarm water. Once rinsed, apply shampoo generously from the neck, all the way down to the paws and tail. Keep an eye out for fleas and ticks looking to escape from this sudsy nightmare. After a nice scrub, wash all soap and shampoo from the dog.
Drying and Cleanup
To avoid water from being splashed all over the place, drain the tub before letting your dog out. Then lay a towel down outside of the tub for them to stand on. Place another towel across their body, with another one being used to dry their head and ears. The more towels you use, the less water will end up on the floor — and on you.
Pampering your pet is no easy feat, but it needs to be done — and we're here to help! If your plumbing does develop clogs or blockages, contact Len The Plumber. If you're looking for a reliable plumber, check to see if you live in one of our many service areas!