There are few plumbing problems more unsettling than water starting to back up in the tub, shower, or sink due to a drain clog. While the first instinct for many homeowners is to reach for a chemical drain cleaner to clean out the drain, this can actually damage your plumbing system further! Before you pour those corrosive chemicals down your clogged drain, call Len The Plumber instead!
Our drain specialists provide same day service seven days a week to the Baltimore; Washington, D.C.; Northern Virginia; and Philadelphia areas for clogged drain cleaning and repair. Whether you're dealing with one slow drain or a bigger problem, our team can handle it! Just call us at 800-950-4619 or contact us online today to schedule your appointment.
Warning Signs of Drain Clogs
A drain clog is pretty easy to spot. Whether it's the drain in your sink, tub, shower, basement, or toilet, the water simply won't go down (or goes down very slowly) when you run the water or flush. The key thing to remember is that if you're seeing multiple clogged drains in your home or if drains begin to back up in one part of your home when you run water in another, it's likely you're dealing with a main sewer line clog. A single clogged drain is simple to repair, but an issue in your main sewer line may require repair or replacement. No matter the issue, the team at Len The Plumber can diagnose and solve it!
Learn more about the warning signs of main sewer line clogs »
Will a Home Remedy or Chemical Drain Cleaning Product Help My Clogged Drain?
If you're simply dealing with a slow sink or tub drain, you can try rinsing your drains with a large pot of very hot but not boiling water (followed up with cool water) or a 1:1 solution of baking soda and vinegar followed by hot water the next morning. However, this technique is most effective for monthly drain maintenance to prevent gunk from building up along the walls of your pipes rather than clearing actual clogs after they've occurred.
And stay away from chemical drain cleaners—the chemicals in these products are harmful to your pipes, your family, and your pets. Even worse, they rarely clear up clogs, so you waste money and time on an ineffective solution.
Tips for Avoiding Clogged Drains
At Len The Plumber, we want to help you avoid clogged drains. While we're happy to unclog drains when needed, we'd rather you didn't have to call us in the first place! Here are some tips for avoiding drain clogs.
Buy mesh strainers or hair catchers for your tubs and showers. Clearing these out once a day (or every other day in a small household) is much less hassle than dealing with a giant clog!
Avoid putting the wrong items down your garbage disposal and in your toilet. Get familiar with our list of things not to put down the garbage disposal and live by it. In the toilet, the rule is simple: If it's not toilet paper or human waste, don't flush it!
Perform monthly drain maintenance. As mentioned above, you can pour a 1:1 solution of baking soda and vinegar down your drain (about a half cup of each should do) and allow it to sit overnight, then follow it up with a pot of very hot water the next morning. This should keep water flowing freely through your pipes, as long as there's nothing wrong with your sewer line.
How to Clear a Clogged Drain: Our Drain Cleaning Services
Wondering what our professional plumbing team will do for your slow or clogged drain that home remedies and chemical cleaners can't? Our plumbers will use an auger or plumber's snake to yank out the gunk, hair, and other debris causing the clog in your drain. If the snake's not working, the problem may be further down your pipe—in that case, we can use video camera inspections to see inside your sewer line and advanced techniques to clear blockages and tree roots, depending on the problem.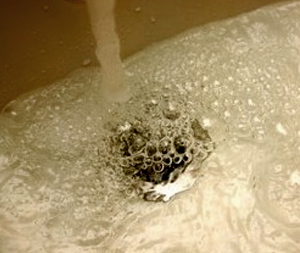 Call us today if you have:
Clogged bathroom sinks
Clogged tub drains
Clogged kitchen sinks
Clogged garbage disposals
Slow drains
Clogged sewer lines
If you have a slow drain, don't wait—contact us online or pick up the phone and dial 800-950-4619 today. We'll have your clogged drains cleared up in no time!
Check out our service areas for a full list of the communities that Len The Plumber services.