Valentine's Day is here! For those of you that don't feel like dealing with over-crowded restaurants and worrying if you'll be able to get a reservation, we have an important announcement…
Stay home!
Spending the night in can be just as enjoyable and romantic as a night out on the town. Just make sure your home is prepared for this lovely evening.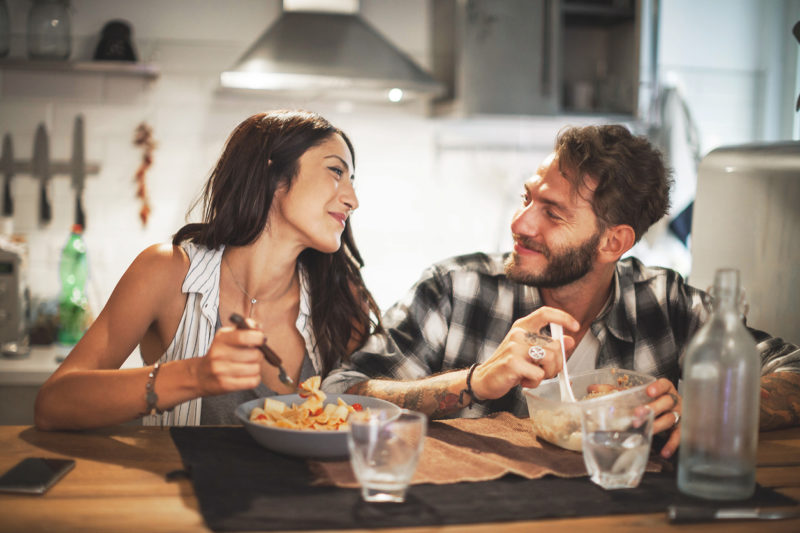 Start the Date By Cooking Together
Preparing a meal in advance for your very special someone can be a romantic gesture. On the other hand, cooking the entire meal from start to finish with your valentine by your side can be a fun, yet still romantic, way to kick off your date!
(For those with kids, think about having a late dinner after they've already been put to bed — or put a movie on for them in another room.)
Make every step of the dinner a joint decision, from the selection of the menu to the cooking of the food, and setting of the table (use the fancy dishes too because why not). If one of you is better at cooking than the other, use this as a way to teach them. If you're both just as bad — it can be an experience you'll both remember and laugh at!
Let the Spotlight Shine!
After dinner, dim the lights, turn on the music, and grab your partner's hand. Whether the music is slow and peaceful or fast and exciting, it doesn't matter — dance until your heart's' content!
Whether you don't know how to dance or you're a seasoned pro, dancing is something that can make people connect (and even bring you back to a time when you first met).
For those of you who are married, use this as an opportunity to put on your wedding video. Reliving one of the happiest moments in your relationship is a surefire way to put a smile on both of your faces.
Don't forget to cue up your first dance and dance along to the video!
Don't Let Anything Ruin Your Evening
Anything can happen on any given day — Valentine's Day is no different!
Dinner can burn, a drain can clog, a family emergency can occur. Life doesn't just stop because today is a day of romance! The important thing to remember is to keep calm and remember that love is the most important thing that matters.
If the food burns, order take-out. If a drain clogs, call your local plumber. If a family emergency occurs, be there for each other.
Today is a day to appreciate your loved ones, so don't let life's problems bring you down. Deal with them the best you can and keep on smiling!