Most homes today have a traditional water heater—the type that stores water in a tank and keeps it hot around the clock, even when you're not using it. Tankless water heaters use a different method. Instead of keeping a tank of hot water on standby, tankless units heat water on demand.
Cold water enters the unit when you turn on any hot water faucet or fixture in your home. Water passes over a powerful electric heating element or gas burner and instantly reaches the temperature required to take a hot shower, wash your hands, do the dishes, or run a load of laundry. Hot water on demand means you don't have to wait for a storage tank to refill itself!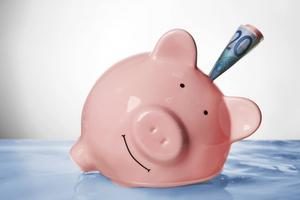 Tankless Water Heaters Have Even More to Offer
Having access to hot water without storing it in a tank is pretty cool, but what does that mean for your home and family? Here's everything there is to like about tankless water heaters:
No stored water eliminates potential water damage. Did you know conventional water heaters are one of the leading causes of property damage?
Tankless water heaters are small (about the size of a fuse box) and can be mounted right to the wall.
They can reduce your water heating costs by as much as 50%! Tankless units heat water only when it's needed.  Since there is no hot water storage, thermal heat loss is almost completely eliminated.
Tankless water heaters have very high efficiency ratings at nearly 99%. With more and more attention being paid to energy conservation and environmental issues, tankless water heaters have become even more popular.
Tankless units have a life span of 20 years or more compared to eight to 12 years for storage water heaters. This results in even greater long-term savings!
Whole-House vs. Point-of-Use Tankless Water Heaters
On top of all the other benefits of a tankless water heater, these units also deliver exceptional flexibility. The first option is to install a whole-house tankless water heater to replace your existing storage tank. This is where water is heated at a central location and dispersed through the pipes to each hot water fixture.
While this is the most cost-effective option in terms of purchase and installation price, it also has some drawbacks:
You must wait for the water to get hot at the tap, just like you do with your existing storage water heater. The further away a fixture is from the tankless unit, the longer it takes for hot water to travel through the pipes.
While you have an endless hot water supply, your home is limited by the unit's flow rate, which could be half as much as a storage water heater. This means you may be restricted to one or two hot water activities at a time.
That's where point-of-use tankless water heaters shine. These miniature units can be installed under sinks or in closets throughout the house. With a dedicated unit for the kitchen, laundry room, and each bathroom, the water heats up instantly—no need to wait for hot water to travel through several feet of pipes. This option also overcomes flow rate limitations that may be present with a whole-house tankless unit.
Of course, you can get the best of both worlds by installing a whole-house tankless water heater for most hot water activities, plus a point-of-use model anywhere you need a little extra boost, such as in the master bathroom, laundry room, or kitchen. This is perhaps the best way to maximize the benefits of tankless water heaters without any of the drawbacks.
Schedule Tankless Water Heater Installation
If the thought of endless hot water, reduced water heating bills, and less water waste appeals to you, it might be time to upgrade your water heater. Len The Plumber offers a variety of home water heating solutions, including tankless water heater installation and replacement, ongoing maintenance, and expert repairs throughout the MD, DC, VA, PA, and DE areas.
Contact us today to learn more about tankless water heaters. We'll help you decide if this is the right solution for your home and family.