Did you know that your water meter can help you determine if you have a leak in your home?
Follow this easy 6 step process to see if you have a water leak in your home.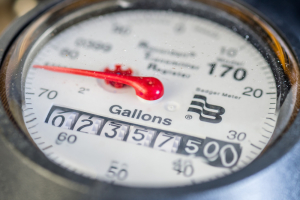 Make sure all of your water-consuming appliances are turned off and closed tightly.  This includes ice-makers in refrigerators as well.
Communicate with those that are inside the home to not use any water for roughly a half hour.
Once your faucets and appliances have been shut off, locate your water meter in your home.
Check the needle's position on the dial and note the time.
Wait roughly 15-30 minutes.
Return back to your water meter and check the needle's position.  If it has changed, you may have a water leak somewhere in your home.
Pesky leaks can increase your water bill and also cause major damage in your home.  Do you know what each drip costs you?  Use our drip calculator to find out!
If you found after performing this leak detection test that you do in fact have a leak, give us a call today at any time!  Our certified and experience technicians will complete a thorough inspection and provide you with an upfront written estimate before any work is completed.  Call us today or schedule an appointment online and we will provide you with Same Day Service, 7 Days A Week.