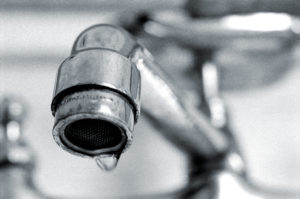 Plumbing leaks come in many different forms and sizes, with the faucet leak being the most common. Allowing your faucet to slowly drip day after day can lead to a bigger plumbing nightmare that you can avoid altogether. Here is what's causing that troublesome leak in your bathroom or kitchen:
Damaged & Worn Parts
Do you have a steady drip coming from your faucet that makes you want to rip the fixture right off the sink? All signs point to the washer within the faucet that will need to be replaced. However, if you have a compression faucet, sometimes the seals can become damaged as it is constantly holding back the water pressure when the faucet is closed. For those with cartridge faucets, the cartridge itself or the moving parts (O-rings, inlet and outlet seals) may also need to be replaced.
High Water Pressure
Does your faucet leak during specific times of the day, like at night or when no other plumbing fixture is being used? This could mean that your water pressure is too high, and it becomes a problem when no other faucets or plumbing fixtures are being used in your home (or throughout the neighborhood). Small leaks can start in your faucet, eventually leading to pinhole leaks in the piping, worsening over time. Consider calling a plumber to have your water pressure evaluated and restored to a proper level.
Cracks in the Plumbing
When a plumbing pipe has a crack or the fitting is loose, it will leak here and at the faucet that is closest to the leak. If you notice that your faucet has a slow but steady leak, inspect the piping underneath the sink. Check to see if there are any small cracks, holes, or loose fittings where the pipes connect. The leak could also be behind the walls, so make sure you have your plumbing inspected by a professional plumber if you're unsure.
Why Should You Care About Leaky Faucets, Anyway?
Homeowners often vastly underestimate the impact of even a single leaky faucet in the home. Putting aside the possibility of a leaky faucet suggesting some other plumbing issue, a single leaky faucet could contribute to as much as 10% of your water bill.
And that's just the beginning of the problem. Sinks aren't designed for a slow, steady drip of water, and a leak can cause all sorts of strange things to happen, especially if your water is hard enough that the drip starts leaving mineral stains and buildup where it's flowing. This can leave you with a difficult mess to clean up, damaged sealants, or even damage that warrants a sink replacement.
Finally, those homeowners mindful of the environment should know that when totaled, household leaks can reach staggering numbers, wasting thousands upon thousands of gallons of water over the course of a year, enough to fill a bath hundreds of times.
Trust Len The Plumber for Faucet Leaks
When you discover a faucet leak in your home, make sure you have it repaired immediately – before it develops into a headache you don't need to have. Reach out to the team at Len The Plumber, and rest easy knowing that we won't just fix your leak; we'll figure out why it happened and fix the root of the problem.
So, when your leaky faucet needs repair or replacement, contact the professionals at Len The Plumber. To learn more or schedule an appointment, give us a call at (800) 950-4619.