Is the constant drip-drip of a leaky kitchen faucet or leaky bathroom faucet keeping you up at night? Leaking faucets can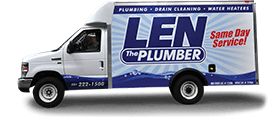 do a number on your home's plumbing system – corroding your pipes and potentially wasting hundreds of gallons of water per month (and hundreds of dollars a year)!
You can use our Drip Calculator to find out exactly how much water is being wasted by a slow faucet drip.
Your faucets are some of the most commonly used appliances in your home. As a result, it's no wonder they tend to wear out after a while – particularly the more fragile components like washers and O-rings. Fortunately, leaky faucet repair is easy for the experts at Len The Plumber! All of our staff plumbers are faucet repair pros, and we provide same day service, seven days a week. If you need a leaky faucet repaired or faucet replacement call us or click today!
If you need your leaky faucet repaired, don't wait! Fill out the "Schedule Appointment" form or pick up the phone and call us today – we'll have your leaky faucets fixed up in no time. Our plumbing technicians service Baltimore, Washington, D.C., Northern Virginia, Delaware and the Philadelphia Area. The counties we service include the following: Baltimore County, Delaware County, New Castle County, Chester County, Stafford County, Fredericksburg County, Howard County, Montgomery County, Prince George's County, Anne Arundel County, Harford County, Carroll County, Cecil County, Fairfax, Fairfax City, Alexandria, Arlington County, Loudoun County, Prince William County, Falls Church, and Manassas.
Does the constant drip, drip, drip of your leaky kitchen or bathroom faucet keep you up at night? Whether the sound itself or the knowledge that you're wasting water is nagging on you, one thing is clear—you've got to fix that leaky faucet!
Len The Plumber is a leading plumbing expert serving Baltimore, Washington, D.C., Northern Virginia, Delaware, and Philadelphia. We perform reliable, affordable faucet repair to help you save money, conserve water, and protect your plumbing system.
If you have a leaky faucet, don't ignore it! Call Len The Plumber at 800-950-4619 or schedule an appointment online for same day faucet repair or replacement in MD, DC, VA, PA, and DE.
Why You Shouldn't Ignore a Leaky Faucet
If you try to conserve water, finding a leaky faucet can be incredibly frustrating. Here's why you should fix the leak as soon as possible:
Leaky faucets waste water: A slow leak of just three drops per minute wastes about 157 gallons of water per year. This needless waste contributes to more than one trillion gallons of water lost from household leaks across the US every year. Use this drip calculator to find out how much water your leaky faucet is wasting.
Leaky faucets increase your utility bills: No one wants to pay more than necessary on their water bills. A pesky faucet leak could be driving up your costs without your knowledge.
Leaky faucets can cause structural damage: Puddles under the sink may lead to wood rot or mold growth. Broken handles can leave hard water stains on the counter. Even a faucet that only drips from the tap can corrode the metal components of the sink and drain, causing unsightly damage and shortening the life of your plumbing.
Leaky faucets are an annoyance: At the very least, you want to fix your faucet leak to eliminate that infuriating drip, drip, drip!
Len The Plumber is on call to fix your leaky faucets. We never charge extra for emergency services, and we respond quickly to your request. Contact us to schedule the services you need today!
How to Spot a Leaky Faucet
Some leaks are easy to detect. Simply listen for the telltale dripping sound, or look for water pooling on the counter or under the sink. If you don't notice these problems, but you still suspect a leak somewhere, use this simple test:
Check your water meter reading.
Refrain from using any water for about two hours.
Recheck the water meter.
If the numbers have gone up, that means you have a hidden leak somewhere! A leaky faucet might be to blame, but other possibilities include a leaky toilet, water heater, or pipe. Fortunately, Len The Plumber offers water leak detection and repair. We can stop all your household leaks, no matter their source.
Call 800-950-4619 or contact Len The Plumber online to fix your faucet or other plumbing fixture today.
Our Faucet Repair & Replacement Services
The experienced plumbers on our team can get your faucet working right again. Whether you need a repair or replacement, turn to us for the job. Here are the types of fixtures we service:
Kitchen faucets
Bathroom faucets
Shower and tub faucets
Touch on/off faucets
Outdoor faucets
Laundry and utility room faucets
Schedule Faucet Repair or Replacement in MD, DC, VA, PA & DE
Don't put up with leaky faucets any longer—contact Len The Plumber today! "Plumber" is in our name and it's all we do. For your peace of mind, we only hire fully trained, licensed, certified, bonded professionals who must pass a background check and drug test before joining our team. Take advantage of our free, upfront estimates and no-surprises pricing so you know exactly what to expect before the work begins.
Contact us today at 800-950-4619 to schedule faucet repair or replacement in the Baltimore, Washington, D.C., Northern Virginia, Delaware, or Philadelphia area.