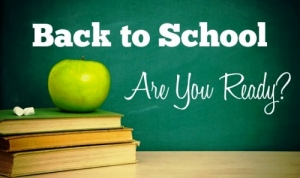 It's that time of year again… summer vacation is officially over and the kids are back in school! Soon the leaves will start changing and the weather will begin to turn. While the whole family is getting back into the groove of things, the last thing you want to deal with is a plumbing disaster in your home.
With school back in session, your schedules begin to change within your household. Your morning routine may require twice the amount of showers, your garbage disposal takes a beating from all of the lunches being made, and your washing machine is running on overload.
Here are few tips for you to make sure your home is working properly during the new school year:
Water Heater
Your water heater is used the most during the morning hours. Everybody in the house is scrambling to get ready for work or school, and the last person typically gets the coldest shower. If this is a typical scenario in your home, you should consider the following:
Wait at least 15 minutes before each shower, so your water heater has enough time to replenish hot water.
Consider installing a tankless water heater. This system can provide an entire family, and more, with endless hot water, lower heating costs, and has a shelf life of over 20 years! To learn more about tankless water heaters, click here.
Garbage Disposal
If you're making lunches and dinner for your family, it's likely that your garbage disposal will be used quite often.
Don't put these items down your drain: Grease, celery, onion peels, lettuce, fibrous foods, pasta, potatoes, rice, coffee, egg shells, bones etc…
To keep your disposal in good condition, run the water for about 60 seconds to flush out any leftovers in the disposal. While the water is running, put a few ice cubes down the disposal. This helps keep the blades sharp. If you have an odor coming from your drain, throw a few lemon peels while the water is running and run the disposal.
To read more about minor garbage disposal issues, click here!
Washing Machine
A different outfit every day and after school activities certainly make the dirty laundry pile up! It's no secret that your washing machine works extra hard during the school year. If your washing machine stops draining there are a few different reasons why:
Blockages: These happen over time and can be clogged from debris or something small like dog hair. If you think this is the case, give us a call and we can diagnose the situation.
Drain problems: There could be a problem in the drain tube. These tubes should actually be replaced every 3-5 years, so if your machine is fairly old, it might be time to replace the tube.
Whatever the issue is, you can always count on Len ThePlumber! We have certified and experienced technicians ready to make your home run smoothly. Give us a call any day, at any hour to schedule a service — we're able to provide you with Same Day Service, 7 Days A Week!