Having low water pressure in your home can be a pain, especially when your house is the only one on the block that can't seem to get a decent shower. There are a number of things that can cause low water pressure, from clogged water filters to flow restrictors to simply the location of your home in relation to the water tower!
At Len The Plumber, we know how to fix low water pressure problems – whether that means clearing a clogged drain or installing a new pressure booster! Whatever the cause of your low water pressure, Len The Plumber has the solution!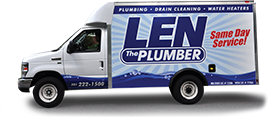 If you have low water pressure in your home, don't suffer through another disappointing shower! Give Len The Plumber a call at (800) 950-4619(800) 950-4619 or book your services online – we'll have your water pressure fixed in no time.
Our Water Pressure Services in MD, DC, VA, PA & DE
When it comes to severely low water pressure, our team has seen it all. Low water pressure can be caused by a number of things, including:
Clogged water filters
Kinks or clogs in your main water line
Clogged flow restrictors in your faucets or showers
Closed water shut-off valves
Faulty water pressure relief valves
No matter what's causing your low water pressure, call the Len The Plumber for the solution! Reach us at (800) 950-4619(800) 950-4619 or schedule your appointment online! We can pinpoint the source of your issue and have it fixed in no time.
Signs You Need Main Line Clog Removal & Drain Cleaning
Your main line can clog up with little warning. If you notice any of the following signs, we advise scheduling an inspection with our team as soon as possible.
Slow-running drains. Pay particular attention if the problem occurs in multiple drains within the home.
Water backing up within the drains.
Gurgling noises coming from the drains.
The smell of sewage wafting through the drains.
Soggy, sagging patches of landscape.
Causes of main line clogs can include the following:
Shifting soil
Sagging sewer lines
Damaged pipes
Debris, including leaves, paper towels, soil, etc.
Grease
These are some of the most common signs and causes of main sewer line clogs in Maryland, Washington, DC, Virginia, Pennsylvania, and Delaware. If you notice these signs, we recommend that you stop using water immediately to protect your home and landscape from damage.
The team at Len The Plumber is ready to inspect your drains. It is our pleasure to apply the necessary repairs and perform the drain cleaning services you need. Contact us at (800) 950-4619(800) 950-4619 to schedule drain cleaning and drain repair services in MD, DC, VA, PA, and DE. You can also book your services online! 
Drain Cleaning Services
Clogged sinks and toilets are common plumbing issues every homeowner will face at some point. While it may be tempting to reach for over the counter drain cleaning liquids, the fact is these can cause significant harm to your plumbing systems. Moreover, they only remove shallow clogs and can't remove clogs deep within your pipes.
Our teams are experts who use their tools and training to quickly and safely remove the clogs within your drains. Whether it is a child's toy, baby wipes, toilet paper, grease, or paper towels causing the clog, we will thoroughly clean the drain so that the water runs fast and smoothly through the pipes.
Contact the team at Len The Plumber today at (800) 950-4619(800) 950-4619 for all of your drain cleaning needs in MD, DC, VA, PA, and DE. You can also book your services online! 
The Benefits of Booster Pumps
A properly installed booster pump can increase water pressure to all of your plumbing fixtures. If you are tired of weak water ruining your showers, or toilets that take forever to fill, our booster pump installation services can solve all your problems.
Booster pumps increase the pressure within your plumbing system. Operating much like a fan, the impeller increases the water flow and pressure within your pipes. Booster pumps won't damage your system or your fixtures, but they will make a big difference in your comfort.
Booster pumps are cost-effective and easy to install. In most cases, it takes our installation teams less than a few hours to properly prepare, install, and test your new booster pump. We offer numerous pumps and can help you select the ideal booster pump for your needs and desired comfort.
Contact the team at Len The Plumber today at (800) 950-4619(800) 950-4619 for all of your water pressure needs in MD, DC, VA, PA, and DE. You can also book your services online! Our team will get to the bottom of your water pressure issue and provide prompt, affordable solutions!