There's almost nothing worse than having a toilet in your home that you can't use. Even if it's a simple clogged or running toilet requiring toilet flange or flapper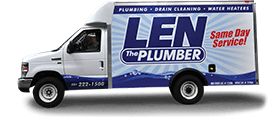 repair, one thing is certain – toilet installation or repair is something that can't wait!
At Len The Plumber, we know how important it is to have your clogged or running toilets repaired or a new toilet installation done right away. When it comes to running, leaky or clogged toilets, our Baltimore-Washington plumbers have seen it all! Call one of our friendly customer service reps today and we'll schedule a technician to see you today. We're available to repair your toilet or come out for a toilet installation today.
Don't wait on having your toilet fixed our installing a new one. Fill out the form to the right or pick up the phone and call us today – we'll have your clogged or running toilets fixed or have a new toilet installed in no time.
Toilet Installation and Repair Services
At Len The Plumber, we've seen it all when it comes to clogged and running toilets. We've all felt that horrible sinking feeling that comes when you flush the toilet and it doesn't stop running – and of course the panic when the water rises to the top of the bowl! What about when you open your water bill and it's three times the amount? That's why we offer fast, full service toilet repair and toilet installation throughout the Baltimore, Washington, D.C., Northern Virginia, Delaware, and Philadelphia area, 7 days a week. Call us today if you need:
Clogged toilet repair
Running toilet repair
Toilet installation
Leaking toilet repair
Toilet flush valve repair
Toilet flange repair
Toilet flapper repair
Toilet gasket replacement
A clogged or running toilet can cause families frustration – especially if that toilet is in the master bathroom or in a guest bathroom. Don't hang an "Out of Order" sign on your door – if you need your toilet repaired, call the pros at Len The Plumber!
Some of the communities served by Len The Plumber include:
Burke, Virginia
Canton, Maryland
Check out our service areas for a full list of the communities that Len The Plumber services.