There's almost nothing worse than having a toilet in your home that you can't use. Even if it's a simple clogged or running toilet requiring toilet flange or flapper repair, one thing is certain – toilet installation or repair is something that can't wait!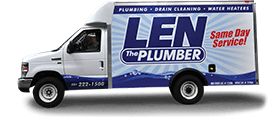 At Len The Plumber, we know how important it is to have your clogged or running toilets repaired or a new toilet installation done right away. When it comes to running, leaky, or clogged toilets, our Baltimore and Washington area plumbers have seen it all! Call one of our friendly customer service reps today and we'll schedule a technician visit fast. We're available to repair your toilet or come out for a toilet replacement today.
Don't wait on having your toilet fixed or installing a new one. Fill out the form to the right or pick up the phone and call us today – we'll have your clogged or running toilets fixed or have a new toilet installed in no time.
If you have a stubborn toilet clog, simply call Len The Plumber at (800) 950-4619(800) 950-4619 or contact us online to schedule your appointment! You can always count on our team to provide quick, efficient, and affordable plumbing!
Professional Toilet Repair & Replacement in MD, DC, VA, PA & DE
Expert Toilet Installation & Repair Services in Maryland, D.C., Virginia, Pennsylvania & Delaware
At Len The Plumber, we've seen it all when it comes to clogged and running toilets. We've all felt that horrible sinking feeling that comes when you flush the toilet and it doesn't stop running – and of course the panic when the water rises to the top of the bowl! What about when you open your water bill and it's three times the usual amount? That's why we offer fast, full-service toilet repair and toilet installation throughout the Baltimore, Washington, D.C., Northern Virginia, Delaware, and Philadelphia area, 7 days a week. Call us any time if you need:
Toilet installation
Toilet flush valve repair
Toilet flange repair
Toilet flapper repair
Toilet gasket replacement
A clogged or running toilet can cause families frustration – especially if that toilet is in the master bathroom or in a guest bathroom. Don't hang an "Out of Order" sign on your door – if you need your toilet repaired, call the pros at Len The Plumber!
Check out our service areas for a full list of communities that Len The Plumber serves, then give us a call at (800) 950-4619(800) 950-4619 to schedule your toilet repair today!
Toilet Replacement & New Installation for Your MD, DC, VA, PA & DE Home
Toilets can last for decades, but when they get old, wear out, and need to be replaced, it's great to have a local plumber on call to provide you with the installation and replacement services you need. Whether you realize it or not, your toilet plays a major role in your bathroom's overall look, which is why selecting a new model can feel like a big decision. Fortunately, our team of seasoned pros can help you select the perfect replacement for your bathroom based on efficiency, aesthetic, and your budget.
Professional Toilet Repair Services
If your toilet is leaking or you have a faulty valve causing it to consistently fill up without warning, you are experiencing a fairly common toilet issue that requires repairs. Our highly skilled plumbing technicians throughout Maryland, D.C., Virginia, Pennsylvania, and Delaware can get to the bottom of your toilet's issue and fix it, using premium-quality parts, professional-grade components, and top industry techniques. Our plumbers receive hours of specialized training in order to bring you knowledgeable solutions that will keep your toilets leak-free and running smoothly.
If you're dealing with a stubborn toilet clog, don't resort to chemical drain cleaners that will wreak havoc on your internal plumbing – simply call Len The Plumber at (800) 950-4619(800) 950-4619 or contact us online! We'll remove your clog fast, while protecting the integrity of your home's plumbing.   
Fast & Effective Toilet Clog Removal in MD, DC, VA, PA & DE
Your toilet is far more likely to experience a clog than any other plumbing appliance in your home. While some clogs can be removed with a simple plunger, many require a more substantial solution that can only be addressed by a pro. Len The Plumber has the tools and expertise to provide clog removal services quickly, freeing your drain lines of all obstructions and protecting your floors from water damage caused by overflowing toilets.
Frequently Asked Questions About Toilet Problems
When it comes to toilet services and repairs, the team at Len The Plumber has seen it all! From clogs to leaks to low water, we've put together some of the most common questions we receive from our customers about toilet problems.
Why is my toilet leaking at the base?
A common reason that many toilets leak at the base
is that the tee bolts, which fasten the toilet to the floor, are in need of tightening. A leaky base could also be an indication that a new wax ring is needed to seal the connection between the toilet and the drain pipe. These are relatively simple fixes, and our team is more than happy to come out and provide quick repairs and help with tightening your bolts and replacing the wax ring.
Why is my toilet running?
There are a few common reasons that toilets continue running for longer than necessary, such as:
The float height needs to be adjusted. When overflow water leaks down into the bowl from the tank via the overflow tube, that means there's too much water in the tank and the height of the float needs to be lowered.
The flapper needs to be replaced. When flappers get old, their ability to seal effectively becomes compromised. To replace the flapper, simply remove the old one and reattach the new flapper. New flappers are relatively inexpensive and can be purchased from your local hardware store.
The refill tube needs to be shortened. If your toilet's refill tube is too long, it will always be pumping water into the bowl. To shorten the refill tube, simply pull it out of the overflow and hold it just above the opening. You can trim it off there and then clip it to the side to keep it in place.
If all of this sounds confusing or simply out of your wheelhouse – don't worry! The qualified team at Len The Plumber can get your toilet back in business fast! Give our friendly experts a call at (800) 950-4619(800) 950-4619 or schedule your toilet services online!
Are chemical drain cleaners safe for my toilet?
Short answer: No. Chemical drain cleaners can produce enough heat to melt pipes or crack porcelain toilet bowls if left too long. Even if the bottle claims to be safe on pipes, it isn't worth the damage it will do to your plumbing system. Fortunately, there are safer alternatives that you can try, such as pouring hot (not boiling) water down the toilet or using a baking soda and vinegar combination. If these
DIY drain maintenance approaches
don't do the trick, call Len The Plumber and we'll take care of it quickly and affordably!
Should I switch to a low-water toilet?
Older, more conventional toilets can use up to 7 gallons of water per flush, while low-flow toilets use a mere 1.6 gallons. If you're looking to conserve water and save money, a low-flow toilet is a great choice! Reach out to our team and we will discuss your options for low-flow toilet installation in your home.
What should I not flush?
When it comes to what you can and can't flush down the toilet, the best rule of thumb is to stick to the basics: human waste and toilet paper only. Unfortunately, many homeowners find themselves facing a frustrating clog due to frequently flushing other items. The fact is, toilet paper was made to decompose at a fast rate, making it safe for your septic system. Even wipes deemed "flushable" are not a good idea to flush, as they don't break down fully before flowing through your pipes. Here's an exhaustive list of items you should never flush:
Facial tissues
Baby wipes, disinfectant wipes, moist wipes, etc.
Toilet bowl scrub pads
Swiffers
Napkins (paper or cloth), paper towels
Dental floss
Eggshells, nutshells, and coffee grounds
Fats, oils, and greases
Hair
Sanitary napkins, tampons, condoms, or any non-organic material
Vitamins, medicines, or other pharmaceuticals
Sheet plastic, or plastic of any kind
Diapers (cloth, disposable, "flushable")
Why does my toilet fill up frequently?
If your toilet keeps refilling at frequent intervals, there's a good chance you have a leak. The issue could also be tied back to the flapper. If your flapper is worn-out or the chain is too short, water seeps into the bowl and the fill valve cycles on as soon as the float falls below the cutoff level. If you're dealing with a leak rather than a flapper problem, you'll likely see water on the floor around your toilet. Whatever the problem is, the highly qualified team at Len The Plumber can identify it and provide prompt repairs!
If you have more questions for our team, give us a call at (800) 950-4619(800) 950-4619 or reach out online! Our friendly customer care experts will get one of our skilled technicians out to inspect your problematic toilet quickly and provide repairs on the spot!
Choose Len The Plumber for All of Your MD, DC, VA, PA & DE Toilet Replacement or Repair Needs
Our team of industry experts is fully versed in toilet repair and replacement. From older homes with finnicky plumbing to new construction, the highly trained professionals at Len The Plumber will provide you with friendly and considerate services at an affordable price, guaranteed! Once we arrive in our clearly marked and fully stocked trucks, we will get the job done fast. And we always offer upfront pricing so there are no surprises on your final bill.
When things go awry with your plumbing, don't stress over the mess! Just call Len The Plumber – we will make sure that your toilets are doing their job effectively and efficiently, so you can get back to enjoying the everyday comforts of your home. Give us a call at (800) 950-4619(800) 950-4619 or schedule your toilet services online today!