It's easy to forget about your garbage disposal until it stops working! If you have loud noises coming from your kitchen sink or a garbage disposal that has suddenly stopped working, don't reach into your sink – reach for your phone instead and call Len The Plumber! Our team of experienced plumbers will get your Capital City home's stopped garbage disposal in working order quickly.
Give us a call at (800) 950-4619(800) 950-4619 or contact us online to schedule your garbage disposal repair today!
Garbage Disposal Repair in the Washington, D.C. Area
Most garbage disposals are powered by a small electric motor. Impellers are attached to the motor, which spins them at a high velocity, turning solid food into liquid (with the help of running water from your sink).
Although it may seem like your garbage disposal can "eat" anything, even the best disposal units can get indigestion from time to time! To keep your garbage disposal in optimal working condition and to prevent needing a new garbage disposal installation, you should avoid feeding it items like:
Grease, fats, and oils
Pulpy materials like paper, wood, or pumpkin
Large or hard food items
Meat, skin, bones, and lard
Fibrous foods like celery and banana peels
Apple seeds or peach pits
Coconut shells and pineapple shoots
If your garbage disposal stops working correctly or starts making unusual noises, don't panic. Try cleaning your disposal system first. If this doesn't work, you will need to schedule repairs by a professional. Fortunately, most disposal problems are minor and can be repaired quickly.
Having problems with your Bethesda home's garbage disposal? Call us today at (800) 950-4619(800) 950-4619 and we'll help you get it fixed fast! You can also contact us online to schedule your garbage disposal repairs!
How to Fix Minor Garbage Disposal Clogs in Your Washington, D.C. Area Home
Not every garbage disposal jam requires a call to the plumber! If your disposal stops working, there are a few things you can try before you pick up the phone: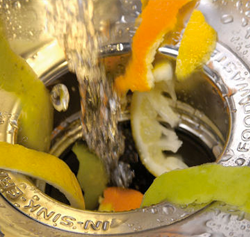 Reset your disposal. The bottom of your garbage disposal should have a RESET button. If the motor jams, turn the disposal off and wait a few minutes, then firmly press this button.
Unjam your disposal from the bottom. Check to see if your disposal can be unjammed from the bottom. There should be a small, hexagonal hole where an Allen key can fit – turning this will allow you to turn the flywheel and attempt to dislodge the clog.
Check the power. This may seem obvious, but if your garbage disposal isn't making any noise (not even a hum) it may not be receiving power. If your disposal is plugged into an electrical receptacle under the sink, unplug it and test the outlet with another appliance to ensure it is operational. If your disposal is hardwired to an electrical box, try resetting your circuit breaker panel by flipping it off and on.
If you still can't get your disposal to work, or if the problem is a leak instead of a clog, don't worry – just call Len The Plumber! We'll come out that same day to fix your garbage disposal as soon as possible.
Garbage Disposal Installation in the Washington, D.C. Area
If you're ready to upgrade your D.C. area home's kitchen with a new garbage disposal, or if your older disposal is in need of replacement, the local professionals at Len The Plumber can help you out! Our team will provide you with comprehensive garbage disposal options catered to your home's specific needs and then perform flawless garbage disposal installation quickly and affordably.
Once you've had a garbage disposal in your kitchen for a while, it's hard to imagine what you did without one. Fortunately, Len The Plumber specializes in garbage disposal installation and replacement services, so you can rest assured that we will get your new system installed so you can get back to having a fully functional kitchen that's ready for all of your meal prep and cleanup needs!
Schedule Garbage Disposal Repair for Your Washington, D.C. Area Home
At Len The Plumber, we know that broken kitchen appliances are frustrating and interfere with your regular kitchen routine. Getting out of dinner duty and grabbing a bite at Ben's Chili Bowl may seem great at first, but you'll quickly tire of having a kitchen that isn't fully operational.
Fortunately, garbage disposal services are second nature for our team of industry experts. We can assess the damage and provide you with solutions catered to your needs and budget! Whether you need a quick repair or garbage disposal replacement, we'll get the job done quickly and affordably, so you can get back to enjoying the comforts of your Washington, D.C. area home!
To schedule garbage disposal repairs in Silver Spring, Bethesda, Rockville, and beyond, or to get answers to your service questions, call Len The Plumber at (800) 950-4619(800) 950-4619 or contact us online today! We're standing by to bring you high-quality plumbing services, right when you need them most!