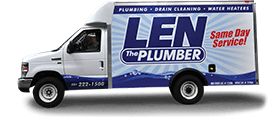 Natural gas water heaters are the most common choice among homeowners in MD, DC, VA, PA, and DE, but electric models are a close second. Electricity offers low operating costs, straightforward installation, and a long life span. Allow Len The Plumber to help you get the most out of your investment with professional installation, maintenance, repair, and replacement services. Our upfront estimates and no-surprises pricing means you can pursue your project with confidence. Plus, we offer flexible financing with approved credit to make your investment as convenient as possible.
To request electric water heater services throughout the Baltimore Washington Corridor, please contact Len The Plumber at (800) 950-4619(800) 950-4619.
How Electric Water Heaters Work
Electric water heaters are wired to a 220-volt circuit. To heat the water, an electric current passes through electrical-resistance heating elements. There are usually two heating elements—one in the middle of the tank and one at the bottom.
Power is delivered to the heating elements via a thermostat that senses the water temperature. When the temperature drops, the thermostat resists current flow, causing it to build up and generate heat. Once water gets to the appropriate temperature, it allows the current to flow like normal. Thermostats can be set to any temperature you choose—for maximum efficiency and comfort, you should set yours to 120 F.
When a hot-water tap is opened, cold water enters the tank through the dip tube. The drop in water temperature will trigger the thermostat, which will kick on the heating elements. When the tap is turned off, the heating elements continue to carry current until the thermostats are satisfied.
Electric Water Heater Installation & Replacement
If you're building a new home, or your hot water heater is nearing the end of its life span, you might be wondering—should I install an electric water heater? Natural gas might be the default choice for many people, but electricity could be the right energy source for you if any of the following applies:
You don't have natural gas lines and want to avoid the cost of installing them.
It would be impossible to run a flue through the roof to vent the combustion fumes of a gas water heater.
You want to power the water heater with a heat pump or solar panels to lower your energy bills.
The water heater experts at Len The Plumber can help you choose between natural gas and electricity. With a comparison of water heater replacement costs, installation requirements, and efficiency ratings, you'll have what you need to make an informed decision for your home.
Electric Water Heater Maintenance
The hot water heater operates quietly in an out-of-the-way part of the house. For this reason, many homeowners forget about maintaining it. However, routine service is important to keep your water heater operating dependably and efficiently.
Call Len The Plumber for annual water heater maintenance to lower your energy bills, decrease the chance of breakdowns, and extend the life of your investment.
Electric Water Heater Repair
Even with maintenance, it may be necessary to schedule electric water heater repair from time to time. At Len The Plumber, we have 24 years of experience servicing water heaters and restoring them to full functionality. No issue is too large or too small for our team to handle, so call us any time you notice a problem. We have experience repairing the following:
No hot water
Overheated water
Rust on the tank
Leaking water heater
Hard water scale and mineral deposits
Strange noises coming from the water heater
Rust-colored or metallic-tasting water
Len The Plumber is here for you 24 hours a day, seven days a week! Give us a call at (800) 950-4619(800) 950-4619 to request same day service for your electric water heater. Rest assured that you'll never be charged extra for an evening, weekend, or holiday repair!
Electric Water Heater Services in MD, DC, VA, PA & DE
Whether you're having a problem with your water heater or you're ready for an upgrade, no team is better equipped to handle the job than Len The Plumber. Our quick response times and flexible appointment options make it easy to service or install an electric water heater on your schedule. Plus, you can expect our friendly plumbers to treat your home and family with respect from start to finish.
Need electric water heater service? Contact Len The Plumber at (800) 950-4619(800) 950-4619 for fast, effective plumbing solutions in the MD, DC, VA, PA, or DE area!